Rulon® 945 Outperforms in Dry Gas Piston Compressors
A large manufacturer of onboard dry gas compressors was looking to improve the wear life of their piston seals and wear rings. With operating pressures that reach 3000 psi, it was important to source a material that could handle that, cycle rates, speeds, and reliability of service.
Standard Filled PTFE Materials Can't Withstand the Pressure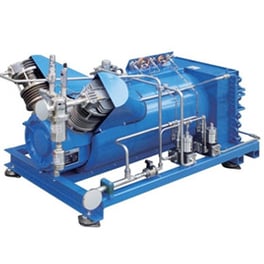 Historically, inert nitrogen/oxygen compressors such as these would use filled PTFE for the seals and wear rings, but change-outs due to worn parts were frequent and costly.
TriStar discussed all the parameters with the customer and determined that a Rulon material that was developed just for compressor applications could be a good solution.
Rulon 945 – A Very Low Deformation Material Designed for High Pressure Applications
Rulon 945 is an outstanding wear material with the lowest thermal expansion and deformation under load rates of any filled PTFE. Other benefits of Rulon 945 include:
Self-lubricating composition to eliminate greasing operations
Extreme temperature range (-400/+550°F)
Possesses excellent chemical resistance
Tolerant of corrosive chemicals and hard mating surfaces
Testing showed that service life compared to traditional glass/moly and carbon/graphite PTFE material was 5-6 times longer. With the lower thermal expansion rates and a different polymer make up, the new combination of materials allowed for tighter tolerance controls and better heat dissipation, which helped extend life and ensured consistent seal-ability of the piston rings.
Other Applications for Rulon 945
Rulon 945 has also been successfully used in other applications where temperature, loads and speeds can be extreme, and the operating environment is punishing. Downhole tools and other oil field equipment have proven to be ideal showcases for this unique polymer.
Learn more about the full Rulon product line by grabbing a free copy of our Rulon Materials white paper, or reach out to our experts if you have an application you'd like to run by us.