A Hybrid Bearing Approach Proves Itself in Heavy Mining Equipment
Recently, a TriStar customer in the heavy mining equipment industry approached us looking for a creative bearing solution to reduce the overall cost of the bearings used in certain critical areas of their machines, and more importantly to eliminate external lubrication in the components.
This customer makes extremely large, complex equipment, such as dredgers, that handle the heavy lifting of exposing and extracting ore in various types of mines. These are high load, medium speed applications with some restrictions on hardware due to the extreme conditions on site.
The existing bearing material at the time was greased aluminum bronze, with a very heavy wall. With hundreds of these mining machines in place all over the world, changes could not be made to the other components – the bearing needed to carry the load (in more ways than one).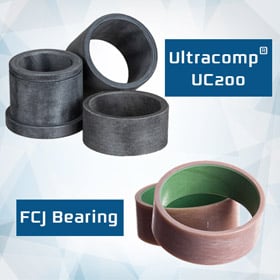 A Hybrid Product Was the Best Approach to Maximize Bearing Life and Minimize Cost and Complexity
Often, TriStar will work with customers to use one substrate material to act as a shell while utilizing a specialized (and more expensive) bearing material as a liner product. Sometimes it can be a simple bonded liner or, as in this case, something mechanically more robust, corrosion resistant, self-lubricating, and capable of high loads/medium speeds.
Ultracomp UC200 and FCJ Bearings were Bonded Together to Provide the Ideal Drop-In Solution
TriStar's engineering team reviewed all the application information and chose to use our Ultracomp UC200 as the supporting substrate to cover about 80% of the wall thickness required. We then incorporated an FCJ composite, thin wall bearing as the dynamic self-lubricating liner. The end-result was a combination of two very high load materials with a very low-friction liner that can handle up to 400 sfpm dynamically without lubrication.
Shell - Ultracomp UC200 Benefits

Liner - FCJ Composite Benefits

Self-lubricating
Easy machinability
Exceptional vibration and impact resistance
Ideal for linear, oscillating & rotary applications
Very high compressive strength

Self-lubricating
Low coefficient of friction
Temperature resistant
High shock-load capability
Low weight/high strength
No changes to the existing mounting hardware were necessary and the design parameters for load and speed were met. Best of all, even as a two-material design option, we were able to beat the cost of the aluminum bronze previously used. After extensive testing, the customer agreed that this was the correct approach. They subsequently implemented this new bearing in both new product and existing machines deployed worldwide.
TriStar Plastics Specializes in Creative Engineering Solutions – That's the TriStar Advantage
If you have a challenging bearing challenge in need of a creative approach or have a concept of your own that you'd like to run by our experienced team, please feel free to reach out with the details.