HyComp H310™ Solution Quadruples Lifespan of Forging Manipulator
A client in the high-performance alloy industry came to Saint-Gobain HyComp with a problem with their rotary forging manipulators. Forging manipulators are the heavy-duty grabbers and grippers that are used during metal forging to precisely position very large metal parts while they are being fired and shaped.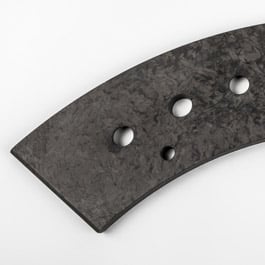 Standard Bronze Bushings Were Failing Prematurely
The problem was that the two-part bronze bushings on the circular gripping surface were failing at around 6 months. The maintenance schedule called for the part to be replaced once a year, and the early failure increased unscheduled down-time, adding significant cost and uncertainty to the process.
The customer reached out to Saint-Gobain HyComp on their own thinking that one of their high-temp composite bearing materials would work well in the application and knowing that HyComp had the engineering expertise and capacity to manufacture the critical parts.
High Strength, High temperature HyComp H310 Was the Clear Choice
Due to the extreme mechanical and environmental requirements, HyComp immediately selected H310 – their strongest material – for this application.
H310 is an aerospace-grade blend of high-temperature resin thermoset polymer sheet molding compound (SMC) with one-inch chopped carbon fiber reinforcement. It has the highest strength of the HyComp materials at temperatures up to 600°F and is best for lower speeds and high loads.
Creating a Better Bushing – Custom Mold Tooling and Precision Machining
The OEM design consisted of one large bushing and one large thrust ring. This wouldn't work with HyComp's standard tooling so they came up with a three-piece design that combined the thrust ring and bushing. In building the part, mold layup was designed for maximum mold flow and the optimum fiber orientation.
Due to the size of the part and the strength of the material, HyComp determined that they would have to create their own custom tool. Additionally, the customer supplied them with a spare housing which was used as a machining fixture to guide the creation of the parts. Once the part was removed from the mold, it was machined to further refine the fit.
The H310 Bushing Successfully Solved the Problem – Increasing Productivity and Saving Money
To test the new part at the customer site, two forging manipulators were run simultaneously. One using the old bronze part, and the other with the new H310 bushing. The bronze part continued to generate dust from wear and, again, only lasted 6 months before failing. The H310 part ran for over two years before needing replacement. This was the way forward for this client. They ordered additional manipulators, generating $130K in sales for HyComp within two years.
TriStar has just partnered with Saint-Gobain HyComp to promote and distribute their full line of composite bearing material solutions. We encourage you to check out our website for more information and to reach out if you think any of these materials might be a fit for your applications.