Fluoroloy® H Brings Superior Thermal Conductivity to Satellite Application
Designing components for the harsh environment of space presents unique challenges. Often, materials that perform well on earth are not as effective in a low-gravity environment where there can be wide temperature fluctuations and other extreme conditions.
The Challenge – RF Microwave Connectors in Space
Our client, a leading European aerospace manufacturer, was looking for materials for use in high-power microwave amplifiers for communications satellites.
The standard unfilled PTFE materials that are normally specified for similar applications were not sufficient for the use in the vacuum of space. The various factors involved in designing RF and microwave components — knowing the working voltage and required insulation resistance, the initial and post exposure contact resistance, and VSWR and RF leakage tolerances — become even more critical when considering an orbital application. This is due both to the exponentially increased cost of operating in space, as well as the inability to go in and make changes once the equipment is deployed!
After rigorous testing, our client determined that the superior thermal properties of Fluoroloy H offered the performance and durability they needed for this critical application.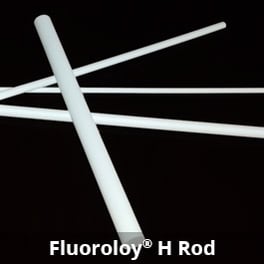 What Is Fluoroloy H?
Fluoroloy H is a ceramic filled PTFE designed for use in UHF, RF microwave applications. Its benefits over unfilled PTFE materials include its superior thermal conductivity (8 times greater than virgin PTFE) and low dissipation/dielectric constant qualities. In addition, Fluoroloy H excels in extreme conditions across a wide wattage exposure range.
With no outgassing in space environments and a useful temperature range of -400 to +500°F, our client found that Fluoroloy H can be pushed to the extreme without losing any of its electrical or mechanical performance edge.
Learn More About Fluoroloy H
You can read more about its properties and benefits here or grab our full product spec sheet in PDF format. It is available in standard rod, sheet or tape formats and is easily machined to create custom components.