Clever Material Selection Extends Operating Life of Bottling Equipment
In the beverage market there are hundreds of companies involved in the bottling and canning of drinkable products. Today's packaging technology runs from traditional plastic and glass bottles, to aluminum cans (and the latest trend, pouches). The machinery involved is varied in terms of technology but the end result is the same: Hundreds of containers per minute, 24-7, to meet our insatiable need for liquid refreshment!
One of TriStar's long-time customers came to us with a problem on a filler/rinse machine for a bottling line. As the plastic bottles move from the blow molder to the production line, they must first go through a rinse line to be sure the interior of the bottle is clear of any debris. This machine can process up to 1000 bottles per minute so the parts that make up the machine need to be robust.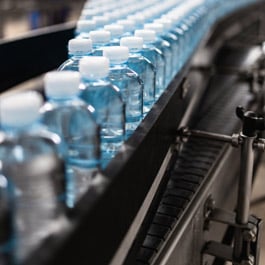 One Simple (but Critical) Part Failing Resulted in Big Problems for Bottlers
One part that failed regularly was a gripper that grabs the neck of the bottle during the water injection rinse cycle. Historically these were made from inexpensive materials like acetal or HDPE but over time they would fatigue from flexing and lose their ability to grip. Chemical attack from cleaning solutions would also lead to a breakdown in strength. The customer needed something that could stand up to this function of opening/closing over the neck while being able to withstand the CIP/SIP solutions now used in the industry.
Focused Analysis and Material Selection Solved the Issue and Led to Increased Throughput
TriStar engineers looked at how to meet these requirements and developed an injection moldable part using a ketone-based composite that had excellent flex fatigue resistance and other mechanical advantages along with chemical and temperature resistance. The parts now perform with much longer life and are not affected by the latest generation of cleaning products.
This material can handle the variety of process speeds used for different products and can be universally applied throughout the bottling industry.
Beyond Bottling – TriStar's Many Solutions for the Food and Beverage Industry
TriStar offers many other material options geared towards the food processing and packaging industry. If you would like to explore the options we recommend our new deep dive on the food industry and we encourage you to reach out if you have specific questions for us.