Advanced Materials Improve Uptime & Outcomes in Cheese Manufacturing
Fromage, queso, formaggio, ost. No matter how you say it, it all means cheese. It's a multi-billion-dollar global business and the process, which varies depending on the type of cheese being made and the scale of the operation, can be surprisingly hard on equipment. That's where TriStar engineers stepped in to help a large cheese processor on the west coast. Read on for details!
From Milk to Cheese – The Process and the Material Challenges Involved
Starting with milk, the product goes through a pasteurization process first, gets filtered and standardized, then on to fermenting, enzyme additives and coagulation where the curds and whey are separated in a cooker. From there it becomes more well defined depending on the type of cheese and the production levels required.
Our customer's original request was for an area we don't often think about and that's wastewater separation. In the bowels of the factory there is a very sophisticated separator system that requires bearings operating in submerged wastewater with fairly high abrasive content (more on that in a bit). This component functions as the steady bearing for a large stirring system used to help settle the solids from the liquid for further separation.
It might surprise you to learn that milk is actually a pretty abrasive material as a liquid, powder or solid. So, our solution had to be able to withstand abrasion, shaft vibration, impact loading, full submersion and temperatures approaching 150°F.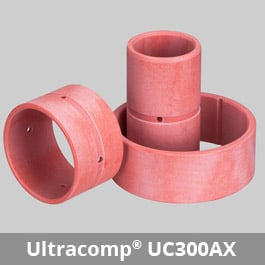 Ultracomp UC300AX Provides Better Abrasion Resistance and Significant Reduction in Downtime
TriStar's solution was our Ultracomp UC300AX, which is made specifically for wet, abrasive and high-load environments and can run against stainless steel. The bearing we replaced was cast nylon which worked OK but the replacement expense due to the location of the bearing was substantial, requiring a minimum ½ day shutdown — a serious hit on production uptime. TriStar's solution tripled the interval between change-outs, saving the customer over $45,000 over a three-year period.
FDA/3A Compliant Ultraflon Material Improves Packaging Function in the Same Facility
This same customer was having issues with some Delrin parts used on the packaging line in filling and packaging machines and press plates. This required a self-lubricating material that met both FDA and 3A (dairy) compliance, could work up to 150°F, withstand daily cleaning procedures, and could be machined to very smooth surfaces.
One of the big areas of concern in the food industry today is protecting the food product from bacteria and microbe contamination. Some plastics (like Delrin) are naturally more porous then others. For that reason, TriStar engineers recommended Ultraflon RTX which is non-porous, easy to machine to fine finishes, meets FDA and 3A requirements and is also highly abrasion resistant.
In addition to bacterial contamination, another area of concern is contamination from the plastic components themselves. As components wear, plastic particulate can find its way into the food product. TriStar is pleased to be able to offer several options for metal and x-ray detectable components including new materials capable of performing in temperatures up to 500°F. Contact us to learn more.
From Processing to Packaging, TriStar's Industry Expertise and High-Performance Products Provide Measurable Results
If you have a challenging material application of any kind, get in touch to learn how specialized bearing materials can solve complex problems and improve outcomes.