Don't Settle for Bronze - CJ Bearings are Ideal Drop-In Replacements
A major manufacturer of material handling equipment asked us to help them solve a problem with the horizontal shaft supports in forklift attachments used to lift heavy loads such as paper rolls and large barrels.
Under Extreme Loads, Metal Bearings Often Fail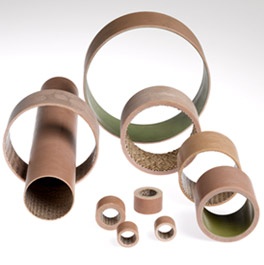 The standard bronze bearings in the attachments were failing from accelerated wear rates due to the high levels of impact and shock loads inherent to the operating environments. The problem was not helped by the fact that maintenance schedules, particularly lubrication, were not always being followed due to heavy workloads and a need to avoid downtime.
Fortunately, We Had the Perfect Solution in Our CJ Composite Bearings
The CJ composite bearing is a filament wound product with a PTFE/Nomex liner utilized for wear and lubrication. With a compressive strength over 60,000 psi and a speed rating of 100 SFPM, CJ composite bearings provide excellent resistance to impact and shock loads and can withstand a high degree of shaft misalignment.
Best of all, American made CJs are available in standard sizes and wall thicknesses so this was a drop-in solution, without the need for custom work either on the bearing or the equipment receiving the upgrade.
Benefits of CJ in This Application Include…
High-load capacity/high-shock load capability
Self-Lubricating Design
Low Coefficient of Friction
Broad temperature range (cryogenic to 300°F)
Low weight/high strength
Thick-wall availability for ready replacement of bronze bearings
In fact, CJs are ideal for a wide range of applications where similar operating conditions are encountered, such as agricultural equipment, construction equipment, and submerged applications.
Here are a just a few specific examples:
Backhoes
Front end loaders
Packaging machinery
Marine pivots
Valve stem bushings
If you are interested in learning more about metal bearing failure and the many reasons for replacing metal with composite bearings, check out our free white paper on the subject.