Rulon® 641 in the Mix with Reduced Wear & Noise
Rulon 641 is a material most commonly known for traditional bearing and seal configurations. One of TriStar's customers — a major pharmaceutical company — was having issues with mechanical face seals and wondered if Rulon 641 might work in the application.
Traditional Seal Materials Just Didn't Cut It in this Extreme Environment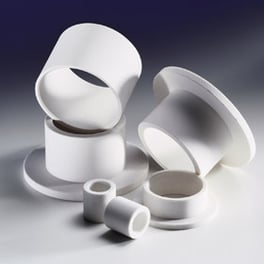 Mechanical face seals usually use two rigid counter faces made of carbon, ceramic or high metals. In the case of pharmaceutical applications in mixing units the selection is much more critical because of the debris potential. The customer also said that the current face materials were noisy and wore out quickly in the abrasive media being blended.
A Requirement for FDA/USPVI Compliance Helped Lead Us to a Solution
Our engineers met with the plant engineers to discuss a non-metallic option for at least one of the faces, in the hopes of both eliminating the noise factor and improving the wear life of the seal. The customer also told us that the material had to have both FDA clearance and USP Class VI approval to be considered.
TriStar had two self-lubricating options available in Rulon 641 and Rulon 1439. Since the mixing media could be either wet or dry at this facility, the Rulon 641 was chosen as the most appropriate material.
(Rulon 1439 is a better choice for a purely wet environment; read about a 1439 pharmaceutical mixing application here.)
With Superior Performance Results Achieved, Cost Savings Follow
After passing the tests for wear, elimination of noise and meeting the required regulatory issues, the Rulon 641 has now been approved for the seal faces as well as several other bearing applications around the plant.
Ultimately the life extension has saved the customer thousands of dollars in downtime for replacements and made the work environment easier on the ears! Learn more about the full Rulon product line by grabbing a free copy of our Rulon Materials white paper or reach out to our engineering team if you have a potential application you'd like to run by us.