Rulon® J Makes it Possible to Strap in and Feel the "G's"
In any application where safety is of paramount importance, there are certain components you don't casually source materials for – only specialty high-performance materials will do. Rulon J is just such a material, and safety equipment on a roller coaster is just such an application!
A Sticky Problem Brings a Roller Coaster Screeching to a Halt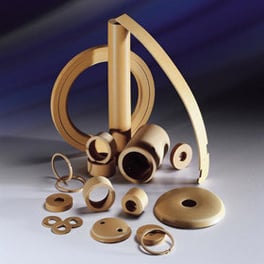 Our client, a major amusement park ride designer and manufacturer, was having problems with the seat belt retractors sticking on one of their "extreme" coaster rides. We were asked to evaluate the problem to determine the cause and recommend a solution.
We started with a thorough review of the requirements for the retractor followed by an evaluation of the specific conditions causing the sticking. We determined that the cause was from galling between the oil-impregnated bronze bushing and the steel pin used to hold the retractor spool assembly in place.
Enter a Specialized Plastic Material Engineered Specifically for Low-Friction Use
We then designed a new flange bearing as a direct retrofit for the bronze bushing. Our solution was to go with one of the lowest friction materials we have available – Rulon J.
Rulon J, one of the original Rulon compounds, is a reinforced material that combines the best in wear and friction properties with superior value. Some key benefits of Rulon J are:
Low maintenance
Self-lubrication
Wash down and caustic resistance
Superior dry friction
Eliminates stick/slip
Read more about Rulon J and the other Rulon grades in our FREE Rulon Materials White Paper.
Initially, there was concern that the Rulon J might be too soft for the impact of the retractor pin under load, but comprehensive testing proved otherwise. Rulon J not only stood up to the challenging conditions, but the coefficient of friction actually improved as cycle testing continued.
Rulon Engineered Materials Deliver Enhanced Value and Efficiency for Critical Applications
No lubrication, no galling, low friction and long life. With Rulon J in this critical component, there are sure to be many twisting, turning, and looping thrills in store for this coaster!