Rulon® Mission-Critical in Chernobyl New Safe Confinement System
The Chernobyl nuclear disaster of 1986 remains the worst nuclear accident in history in terms of resulting deaths, health issues, environmental impact and cost. Rulon® high performance plastics, supplied by TriStar Plastics Corp. are playing a small but critical role in keeping the still-dangerous reactor contained.
Along with the 2011 Fukushima Japan disaster, Chernobyl is the only "level 7 - major accident" in history. The melted core, which is still exposed and unstable, is extremely dangerous to be around so, from the beginning, there have been attempts to contain it and the surrounding wreckage.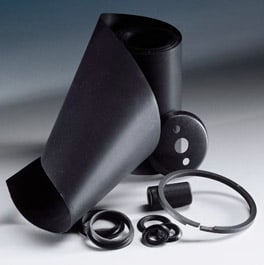 Containing A Disaster – A Challenge from Day One
The original containment structure (referred to as the "sarcophagus") was a temporary measure — hastily constructed — and not capable of adequately isolating the ruined plant.
Planning for a massive new containment structure, officially called the "Chernobyl New Safe Confinement," was started in 2004 and the project was mostly completed in 2017, with some aspects still ongoing. It has been an enormous engineering and logistical undertaking, involving many companies and governments.
The containment structure was built on rails, at a distance far enough away from the unstable core (300 meters) that the radiation dose was much safer for the workers involved. When the structure was almost complete, it was transported along the rails and moved into place over the ruins of the unstable plant (as well as the existing sarcophagus).
Enormous Industrial Dehumidifiers Key to Planned 100-Year Life Span
A key component of the New Safe Confinement structure are the large dehumidifiers that are designed to keep moisture at bay. Warm, dry air will be circulated in the gap between inner and outer roof sections to prevent condensation, which will reduce corrosion and prevent water from dripping into the interior.
TriStar provided the manufacturer of the dehumidifiers with Rulon 123, which is bonded onto the rubber seals used on access doors in the enormous units. Rulon 123 is known for a high resistance to deformation, low friction and good thermal and electrostatic dissipation. The material is also compatible with most mating surfaces.
The Rulon 123 prevents sticking of the elastomer seals to the steel substrate under load and time. Silicone rubber, without the Rulon 123 buffer, would eventually vulcanize or stick to the steel and peel off when the access doors are opened.
This unwanted adhesion is more prevalent in systems that are not regularly accessed – and let's face it, no one is eager to do casual equipment checkups at Chernobyl ground zero!
The new Chernobyl containment structure was a result of international cooperation, and a significant technical accomplishment. As the exclusive North American distributor of Rulon plastic materials, TriStar Plastics is proud of our involvement in this project. If we can help you with your engineering challenges, please let us know.