Rulon® Materials are Critical for Accurate Lab Fluid Dispensing
TriStar Plastics has a few customers that are utilizing Rulon materials as piston cups in microfluid piston dispensing pumps. These pumps are driven by a rotary shaft with a cam which drives the piston and have no valving — which means the only moving part is the piston.
Critical Lab Requirements Call for Precision Piston Pump Components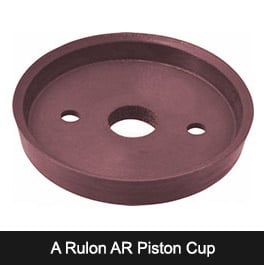 These types of pumps are primarily used in specialty lab applications where a broad cross section of fluids can be involved and where finite control of flow rates is critical.
Specific examples of the types of fluids being tested include dispensing of organic solvents, acids/bases, and highly corrosive acids including HF (Hydrofluoric).
The pressures are generally low from 10-100 psi, flow rates from 0.4 to 2300 mL/min and speeds from 40-1800 RPM. There are also various additional hardware considerations depending on the end use.
Manufacturers Rely on Rulon Materials for Their Reliability and Chemical Resistance
Rulon AR and Rulon J are the traditional materials used to make formed piston cups, which provide a mechanical sealing surface on the edge of the hydraulic piston heads. The counter-face materials can be ceramic, stainless steel, or carbon fiber.
Rulon products have been successfully used in these types of pump applications for many years because of their reliability, compliance to various hardware conditions and universal chemical resistance for the various fluids involved.
Newer FDA and USPVI Rulon grades are now available for manufacturing piston cups where biocompatibility is required.
Other Applications – Rulon is Also Ideal for Many Other Products Which Utilize Piston Cups
Pumps and compressors of all types and sizes are excellent places for Rulon piston cups including hot glue dispensers, specialty pumps in critical chemical environments like semi-conductor manufacturing, and even the gas pump at your local station.
For nearly any piston or shaft sealing applications in difficult operating conditions TriStar has a Rulon solution! To learn more about the Rulon product line, download our free Rulon White Paper.