CJ Bearings Kick Grease Contamination to the Curb
For many years, manufacturers of waste collection equipment have utilized CJ bearings for pivot points on the mechanical devices mounted on their trucks.
CJ bearings are usually found on the articulation points in the rear lift or side lift systems you see every week picking up your trash cans.
It's a Dirty Job but CJ's Gotta Do it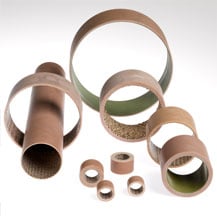 This environment is dirty and heavily cycled, with high impact/vibration and loading that can vary from lift to lift. Traditional bearings for these applications have been grease-lubricated bronze which introduces all kinds of problems due to the accumulation of contamination into the grease, resulting in a lapping compound effect. This attracts dirt and debris and – ultimately – failure.
With No Lubricant – CJ Tosses These Problems in the Bin
TriStar's composite CJ bearing has eliminated these concerns because the CJ and its companion FCJ and Super CJ variants are all engineered for high loads, vibration, and dirty environments in intense 24/7 conditions.
All this and CJs are self-lubricating, with no need for manual greasing.
The newest addition to the CJ product line is a sealed version which ― in certain applications ― enhances their ability to keep out contamination. TriStar has a number of end users that have opted for this because of unique situations where they can't afford any liquid or solid contaminants entering the bearing surface. The result has been extremely long, lubrication-free service in the harshest environments.
The Bottom Line: CJ is an Ideal Drop-in Bronze Replacement Option
The CJ family of filament wound bearings offers a variety of specialized solutions for lubrication free, high-load and impact service in all types of operating conditions – hot/cold, wet/dry, and dirty/clean. Let us know what your specific challenge is, and we'll tell you which CJ bearing is right for the job!