Roasting a Better Cup of Comfort with Rulon® 641
Coffee is incredibly popular all over the world. You could even call it universal. After crude oil it is the most desirable commodity there is. A large coffee roasting company came to us looking for a specialized bearing for their roasting equipment and we came up with the perfect material for the job.
Feeling the Heat — and a Requirement for FDA Compliance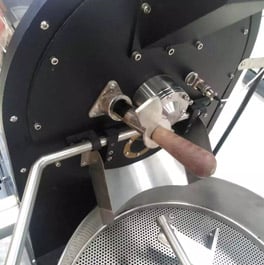 The primary challenges were the constant high temperatures present in their roasting chambers and the need for an FDA compliant plastic.
Depending on the type of bean and the depth of the roast, temperatures in the roasters can run between 350 to 490 °F. This equipment operates hours at a time, so a plastic that can withstand these temps for sustained periods is essential.
The carbon paddle support bearing they were using up to this time was not able to meet these requirements and was also not able to handle the load capacity without generating excess friction.
In Demanding Food Processing Applications, Rulon 641 Percolates to the Top
We worked with the customer to redesign the previous carbon bearing to not only support the load but also keep the friction very low. These new bearings are also used in a secondary application in the roaster bin where the beans are stirred during the cooling process.
Rulon 641 was selected because it is FDA compliant, runs well against the stainless steel hardware, easily handles the temperature range, and can carry the loads without degradation over time. Rulon 641 is also able to take the abrasive debris that can come from the beans during roasting process without sustaining damage.
And of course, like all Rulon materials, Rulon 641 is self-lubricating.
Worldwide, over 500 billion cups of coffee are consumed every year. TriStar Plastics is proud to contribute to the enjoyment of this truly pervasive and culturally significant beverage!
TriStar is Your Source for FDA Compliant Bearing Materials
Rulon 641 is just one of the FDA compliant plastic materials available from TriStar. Whether the application is wet or dry service, we can recommend a material that will meet your unique requirements.
If you are interested in learning more about the Rulon product line, check out our free Rulon Materials white paper and our Rulon comparison chart.