TriSteel™ & Ultracomp® Bearings Clean up in Renewable Energy
There are numerous individual applications hidden away beneath the massive turbine cowlings of today's wind energy systems. Many of these applications draw on past and emerging technologies as these systems get larger and more sophisticated. TriStar Plastics works with both OEM and service organizations to supply (and improve upon) current bearing technology.
TriSteel Bearings — Metal-Backed for Strength and No Lubrication Required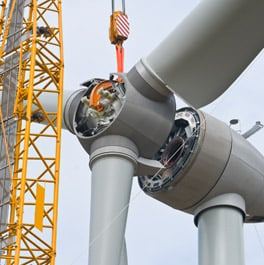 Our TriSteel bearings have been used for several years in turbine pitch and yaw actuators because customers can install them and not have to worry about lubrication – ever!
Metal backed TriSteel bearings utilize special polymer liners for self-lubrication and improved wear properties. Each liner material has a specific wear rate dependent on the speed, load, temperature, lubrication and hardware of the application. The advantage of the TriSteel design is that even if wear-thru occurs in the liner, the supporting interlayer is a self-lubricating material as well.
Installed in wind turbines, these bearing systems are simple, can withstand high loads and speeds, and are impervious to typical turbine fluids that may be in the area. They also withstand temperatures from cryogenic to +500°F in service.
Learn more about TriSteel or explore some case studies in a variety of industries.
Turbines in New Environments Bring Challenges — Ultracomp and FCJ Bearings Are Here for It
The evolving nature of the clean energy market has resulted in more equipment in areas where exposure to environmental contaminants can wreak havoc. In ocean-based turbines and those located on the Great Plains, we have seen debris work its way under cowlings and contaminate external bearing lubricants to create lapping compounds that result in equipment failure.
Here again, our self-lubricating composite bearings eliminate this problem completely. Two examples of applications are Ultracomp bearings in yaw brake pistons and FCJ bearings in pitch adjusters on smaller wind systems.
Operating temperatures in these applications are well within the both material's capabilities and loads and speeds are also easily managed. Cost saving to the end user is easy to quantify – no lubrication required, service life measured in years, and (critically) less time needed for humans to spend 200 feet off the ground!
If you're interested in hearing more about composite bearing solutions for renewable energy systems, just drop us a line. The unique benefits of composite bearings are ideal for many other industrial applications as well. Explore a bunch of them in our free Industrial Bearings white paper.