Ultraflon CFX30 Performs in Extreme Oil & Gas Seal Application
There are few environments tougher on seals than those found in oil and gas applications. Extremes of temperature, pressure and potential contamination conspire to make catastrophic failure a frequent occurrence. One of our customers came to us with very specific requirements and we recommended a unique material that addressed their concerns and greatly increased performance and reliability.
A Gearbox Clutch in Need of a Critical Port Seal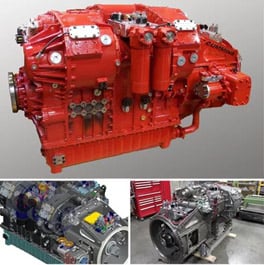 This application was for a port seal used on a gear box system attached to a large diesel engine on one end and to a drilling rig on the other. The standard seals in this sort of application would be steel rings. That sort of seal is strong and performs well, but has some inherent weaknesses, not the least of which is the need for external lubrication, which requires downtime and disassembly of the clutch.
Our client was looking for a seal that could handle speeds up to 1900 RPM, pressure up to 650 psi, with operating temperatures of -30 to +100 °C in oil. The gearboxes also had to be capable of running 24/7 in some service locations.
Our Solution – A Seal Made of a Specialized Ultraflon Material
To address the needs of our customer we looked back at a German seal design from the 1960s and developed an updated version capable of thousands of hours of maintenance-free service.
TriStar engineering designed and manufactured the seals with a proprietary Ultraflon CFX30 material, which is an extremely strong, high temperature polymer that has low friction and long wear life.
The base polymer in Ultraflon CFX30 has chemical resistance characteristics similar to PTFE but with much greater strength. Used as a replacement for metals, Ultraflon CFX30 has superior resistance to deformation under loads and is more easily machined. Finally, it is self-lubricating, which means less downtime and no external grease to become contaminated.
TriStar Engineering Brings Decades of Combined Expertise to Bear on Complex Problems
Ultraflon CFX30 has been used in the field for several years now with excellent performance and no failures. It's just one example of the many industrial applications our sales and engineering teams have tackled with creative solutions drawn from a deep well of knowledge and experience.
If you have an application in need of a unique approach or a specific component failure issue that needs to be addressed, get in touch and we'll be happy to provide some recommendations.