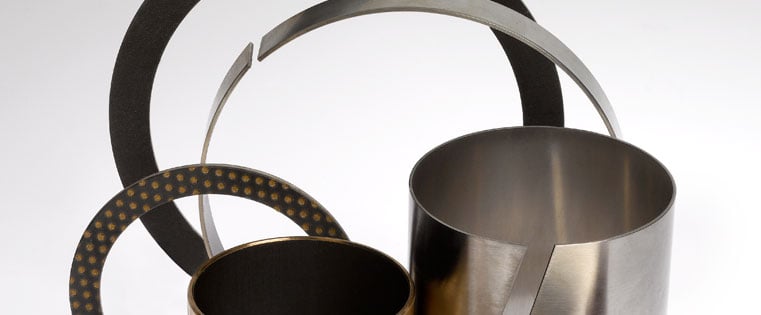 Does your application require a bearing with a reinforced design? It depends on just how rigorous the application is. In some cases, a standard bearing will do just fine, but in applications where extreme speeds, loads and conditions are probable, you might consider a reinforced bearing. We've got the recommendations to help you decide.
Reinforced bearings have a strong, dual-layer design that renders them nearly infallible in heavy-duty applications. But their greatest advantage is that their secondary layer of material will protect running hardware in the (rare) event of a bearing liner breakthrough. Without this reinforcement, the bearing would corrode (and eventually fail) from direct metal-to-metal contact of the shaft and bore.
We often recommend choosing a reinforced bearing that is designed of a polymer liner sintered to a metal-backed shell. With this design, your equipment will always be protected and lubricated, since the polymer liner continuously self-lubricates.
This also gives you the choice of a variety of liner options along with a stainless, bronze, zinc, or copper backing. Another advantage of this reinforced design is the thickness of the liner can be custom fabricated to accommodate any shaft misalignment or minor ID tolerances.
If you want to learn how self-lubricating, metal-backed designs compare to other bearing types, check out our Bearings 101 feature.
Some common reinforced bearing options include:
PT (bronze/PTFE) = low friction and high PV
AC (bronze/acetal) = lubrication reservoirs for use in dry or lubricated conditions
AT (POM bronze/PTFE) = operation with zero lubrication needed
Ultimately, it's critical to look at the PV requirements to be sure that your bearing can tolerate the loads and speeds of the application. Depending on the requirements, reinforced bearings can be designed to withstand speeds of 1,000 FPM and loads of 80,000-2 million. All with good wear and low-friction service.
Consider reinforced bearings for extreme requirements:
Aerospace

–

lift, tilt and pivot points in the aircraft steering, fuselage, wings
Automotive – sliding, oscillating and rotary applications on controls, clutch systems and flywheels
Small construction – hydraulics, control levers and steering of small mowers and movers
Explore how TriSteel reinforced bearings replaced bronze in high-end dental chairs.
Connect with the bearing experts, and we'll help you evaluate bearing shell and liner options based on your exact design specifications!