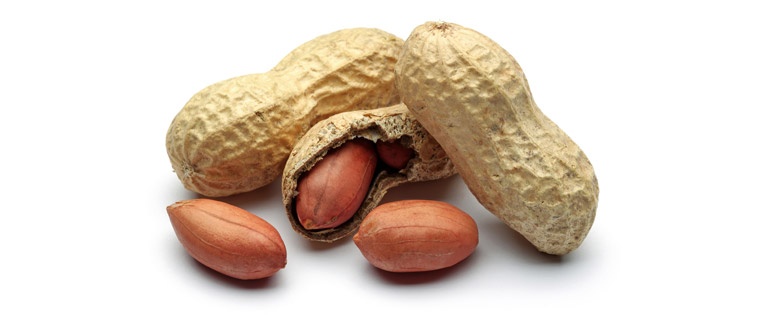 Thanks for your feedback to our recent post about food bearings and the Food Safety Modernization Act. It's a topic that has some serious implications for manufacturers, and we'll continue to follow new developments. Today we turn to solving the challenges involved in peanut processing, which is a particularly tough environment for lubricated bearings.
Peanuts, almonds, pistachios; no matter the nut application, the cracking and husking process generates volumes of dust. This poses a real challenge with lubricated metal bearings, as the lubricating grease acts as a magnet and attracts fine peanut dust. Over time, the dust can thicken into layers, and will interfere with the clearance between the bearing and the shaft. Without proper clearance, bearings stop rolling and processing equipment can seize up.
We recently worked with a major peanut manufacturer to retrofit several pieces of their processing equipment to avoid this challenge; and the answer was self-lubricating bearings. Self-lubricating bearings excel in environments with high dust, as there is no excess grease build-up (or lapping compound). Self-lubricating plastic food bearings run cleaner than metals, and will not attract environmental dust.
Solutions included Ertalyte TX and Ceram P on the impact plates of the nut cracking station. Ertalyte is known for its excellent wear and abrasion resistance, plus high mechanical strength. The material gives superior lubricity, without the need for additional greasing. It also excels has good release properties for use in food applications with sticky ingredients like pasta.
Ceram P and Rulon were also used on areas like nut processing trays and equipment brake pads. View the Rulon Comparison Chart to learn about food-grade formulas. By combining a variety of food bearing types, we were able to meet the needs of this high-velocity and high-impact processing application.
This application is a good example of the need to look at each piece of processing equipment individually. Often, the best solution is a combination of food bearings shapes with distinct properties to achieve the best fit. We recommend that you partner with a food bearing manufacturer with both in-stock and custom bearing options for speedy delivery.
Want to learn more? Let's talk about your food bearing needs!