1 min read
Engineered Plastic Components and the Cost vs. Performance Debate

Dave Biering May 12, 2015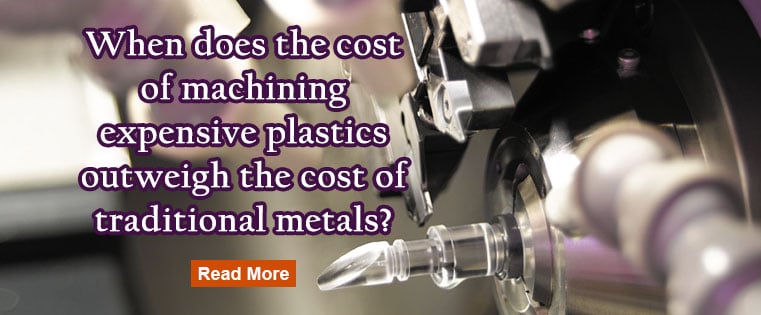 Thank you for your overwhelming response to our recent technical paper, Machining Plastics the Essential Guide to Tools and Techniques! We've heard from many of you stating that this guide to engineered plastic components has become a go-to resource for your machine shop. We've also had some follow-up questions about the cost vs. performance debate, especially with regard to more-expensive materials. When does the cost of machining expensive plastics outweigh the cost of traditional metals? Read on for more (and to view our relative cost of materials chart).
Plastics are an excellent replacement for bronze, stainless steel and cast iron, as they excel in high temperatures and extreme environments. But this level of performance can be costly, since engineered plastics are not inexpensive. Consider that PBI-Celazole is 25x the price of cold-rolled steel, and 15x more expensive than Type 303 steel. At these price points, it is critical to choose just the right engineered plastic for your application before beginning any machining.
At TriStar, our theory is that the cost of the material should be an investment in performance. Once you've reviewed the primary application conditions (environments, temperature requirements, mating hardware, etc.), and made a selection, you should next consider the cost of a material failure. A higher-quality material will provide a higher-quality part. And a higher-quality part can help you reduce in-field failures and costly recalls.
Here's a quick review of the relative cost of plastic materials: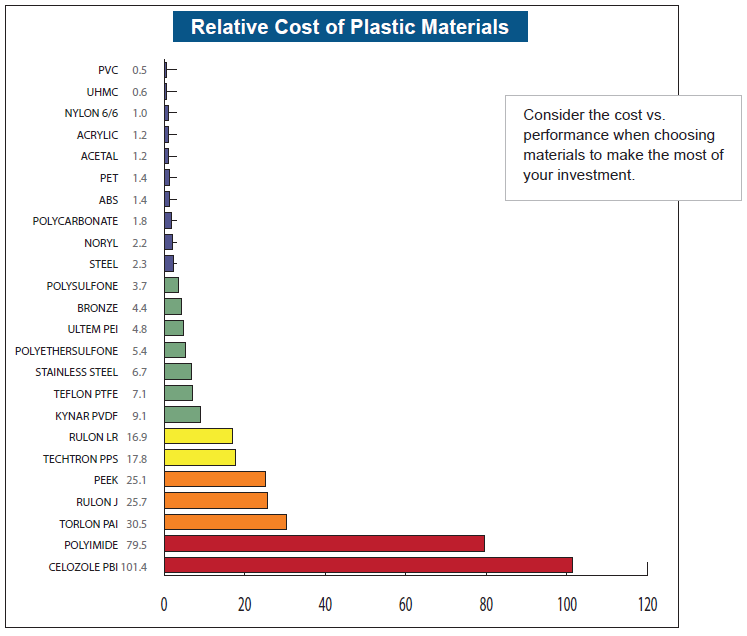 Any of these materials can be machined, yet each offer unique attributes for certain conditions. Want to explore the advantages and considerations for each? Connect with our team for a review, or request a quote for engineered plastic components! At TriStar, our goal is to help you find the best engineered plastic components for your application ― all at the best value!