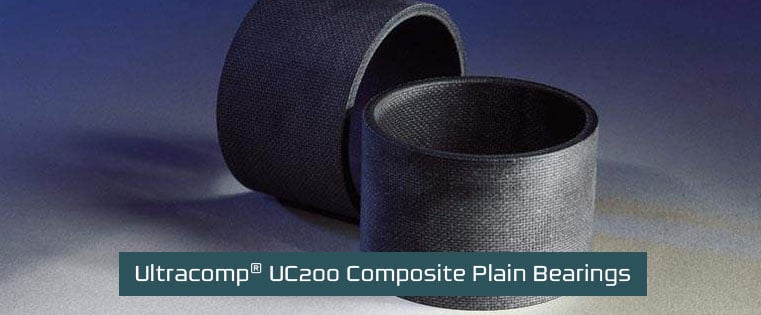 If you're a regular reader of this space, you may recall our debate about plain bearing vs. a plane bearing. While the spelling might be hotly debated, today I want to focus on the benefits that lightweight composite plain bearings can bring to your design.
A quick Google search will tell you that plain bearings are available in materials ranging from bronze and acetals, to ceramic, carbon alloy and, of course, composites. While each material can be installed at the point where two surfaces meet, why should you choose composite bearings over the other materials?
One key advantage of composite plain bearings is their weight – or lack thereof. Plastic is up to 5x lighter than steel. The balls and racers required of metal rolling element bearings can add significantly to the total weight of a finished component. Not so with plastic plain bearings.
Choose lightweight plastic composites for the following benefits:
Total weight of the finished component is critical -

Aerospace bearing applications are a prime example. With potentially thousands of bearings in a typical airplane, a lightweight bearing will lower the total weight of the aircraft to give better liftoff and dexterity in the air. Less weight requires less thrust (and fuel) to get off the ground.

Power costs are a prime consideration -

Have a line of rolling conveyors in your manufacturing facility? Than you know firsthand the expense of running the conveyor belts 24/7/365. Lightweight bearings require less power to run and give better efficiency. A simple switch from metal to plastic conveyor bearings will reduce power consumption and deliver big savings on electric bills.

Space savings is a key design specification - Let's take the robotics industry as an example. Spherical robotic arms pack great dexterity in a small space. Designers need a material that will wear well, but not weigh much. Plastic composites have a thinner wall design than rolling element bearings to accommodate the tightest spaces. They can even be custom fabricated to your exact specifications for the right fit.
You need good strength-to-weight ratio -

Though they are lighter, plastic composite plain bearings never compromise on strength. They can withstand tough environments like agriculture and construction, but still maintain a small design envelope.

Rigidity is important, too - Lightweight plastic composites maintain their shape and stiffness despite high heat, UV exposure and other environmental elements that can cause metal bearings to fail. Learn more about avoiding bearing failure.
All of these qualities are key to the success of plastic composite plain bearings, and the material is even self-lubricating to reduce your bearing maintenance costs.
What's not to love about composite plain bearings? We invite you to learn more!