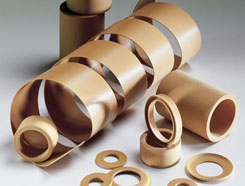 We recently answered a question via our Ask the Experts forum from a client searching for a tape with outstanding wear qualities. Rulon tapes outperform all products in their category. In rotation tests, this material offered 500x wear resistance, and very low friction. Rulon tapes are available in both low temperature acrylic and high-temperature, clean-release silicone adhesive.
Rulon® tapes are manufactured from skived, PTFE films and are available in thicknesses ranging from 0.002 in. to 0.260 in. Standard widths are 6" or 12" and custom widths are available. All tapes can be chemically etched to provide a bondable surface and just the right tack strength.
Consider Rulon tape for use in liners, and chute and rail coverings. You can also review our Rulon Comparison Chart for specifications on different grades.