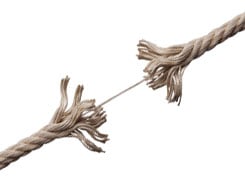 In the last few weeks we've reviewed the importance of having a good bond adhesion in order to ensure proper device performance. But it is just as important to be able to recognize an adhesive bond failure. So what should you be looking for?
There are 3 primary types of bond failure: adhesive, cohesive, and substrate.

Adhesive
This is the most common failure when bonding dissimilar materials. The adhesive (glue, paint, coating, tape, etc.) has more chemical and/or mechanical attraction to one substrate than the other. When the bonded material is submitted to lap-shear testing (pulled apart by hand), the two pieces come apart and all (or most) of the adhesive remains on one substrate. This is referred to as "delamination."

Cohesive
This is most common failure when the adhesive is too weak for the intended application. As shown below, the adhesion to the substrates is greater than the structural integrity of the adhesive. This can occur with "soft" adhesives like certain urethanes and silicones. It can also occur if the adhesive bond-line is applied too thick.

Substrate Failure
This is the best type of failure. It simply indicates that the strength of the adhesive bond and the adhesive itself (and the correct amount applied) is the right formula for the application.

We can help you avoid a surface bonding failure. Just Ask an Expert!