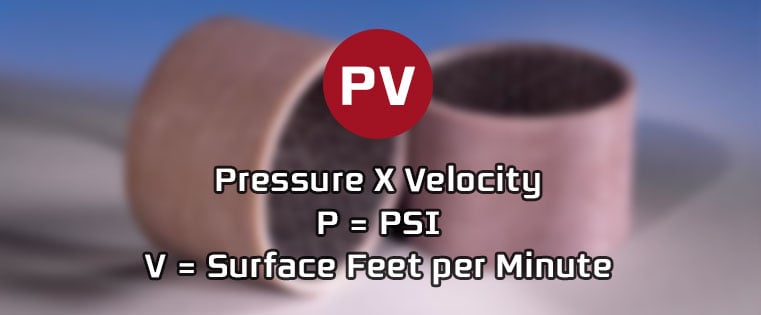 P, V and PV – how do they impact a plane bearing system? Let's take a quick review of this important connection. Plane bearings are basically rolling element bearings in their simplest form; they provide good value, easy installation and serve a multitude of industries. And plastic plane bearings have the advantage of a self-lubricating design to reduce manual greasing costs.
When choosing the right plane bearing for your application, we, of course, look at bearing load (P), relative velocity (V), temperature variations and environmental considerations. But there are 4 other factors that are critical to help determine a material's ability to handle P, V and PV:
Since pressure (P) and velocity (V) do not occur independently, they should always be considered in tandem. After all, it is the combination of load and speed that generates frictional heat, and each material has a maximum PV rating. But we also must consider these key factors to determine the performance and longevity of a material as a plane bearing:
Ambient temperature - the higher the ambient temperature, the greater the reduction in capacity measurements.
Intermittent operation – consider that oscillating and reciprocating motion allows for higher P, V, and PV values.
Shaft materials – materials that are good thermal conductors allow for increased values.
Surface finish - a surface finish that is too smooth will generate higher friction (and more heat), which will lower values.
Got all that? For a quick review of the plane bearing and P,V, PV connection, watch this video demo (below). Or fill out a Plane Bearing Design Worksheet for a custom quote!