TriSteel™ HMT – A Hardened Steel Bushing for High Impact Applications
TriStar's TriSteel bearing products include polymer-lined metal shells for low-cost solutions in high PV, self-lubricating applications. Our TriSteel product line also includes bimetal bearing solutions for lubricated applications such as compressor connecting rod bushings, automotive crankshaft bushings and other traditional applications where continuous lubrication combined with steel-backed, copper-based liners are required.
Introducing TriSteel HMT – Made from High Elasticity Steel for Maximum Wear Resistance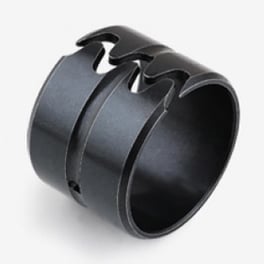 Yet another type of TriSteel, one designed for extreme operating conditions, is our TriSteel HMT. This is a hardened spring steel bushing, designed with a either wave joints or butt joints for improved press fit control. The processing of the steel produces a material with high elasticity to improve resilience and provide excellent wear resistance.
Applications are typically areas where tight tolerances are desired, where high impact and vibration are constant, or regular reversing functions cause shaft slap or misalignment.
The HMT series replaces lubricated bronze and hardened steel sleeve bushings in applications such as:
Hydraulic cylinder rod ends
Forklift mast bearings
Commercial lawn equipment
Mining equipment
Construction equipment
Skid steer attachments
The HMT material can be used in non-lubricated or lubricated service depending on the application and the design allows for easy replacement, which keeps downtime to a minimum.
Look to TriStar for High-Performance Components for Extreme Operating Conditions
For applications where the traditional polymer-lined or bimetal style TriSteel bearings don't meet the demands of the application, consider the TriSteel HMT as a solution. As always, we encourage you to reach out to our engineering team to discuss all your critical component material needs.