Meldin® 7001 Polyimide for Semiconductor Manufacturing
Material choices in the semiconductor industry can have a significant impact on both output and equipment uptime due to the extremely precise (and clean) nature of the processes and the expense and effort required to solve problems in place.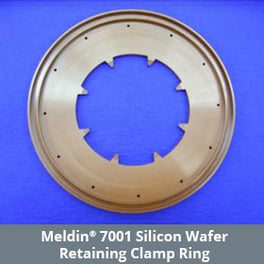 A key material used throughout the industry is polyimide. Lighter weight than metals and more ductile than ceramics, polyimides can be found wherever metal replacement is desired. It is also replacing quartz in many areas. Polyimides have been used to great effect in wafer handling, wafer processing, IC handling, and other semicon manufacturing processes.
Wafer Processing has Unique Material Requirements and Challenges
The wafer processing stage requires materials that meet the following:
Can withstand high temperatures – continuous from cryogenic to 600°F, short term to 900°F
Excellent chemical resistance
Low outgassing in vacuum
Very low ionic contamination
Strong, lightweight, and low creep
Insulative properties, dimensional stability for tight tolerances
Very low weight loss during plasma etch process
Easy to machine
Here are some specific wafer processing applications where polyimides shine:
| Application | Key Design Issues | Components |
| --- | --- | --- |
| Oxidation | Temperature to 800°F | Retaining Rings |
| CVD | Dimensional Stability | Hold-Down Screws |
| Photoresist | Machinability | Feed Rings |
| Ion Implantation | High Ionic Purity | Wafer Handling |
| Etch and Strip | Chemical Resistance | Wafer Spin Chucks |
| Develop and Bake | Non-Galling | Oven Ring Supports |
| Align and Expose | Wear Resistance | Focus Rings |
| Epitaxial | Outgassing | Wafer Clamps, Vaccuum Pads, Wafer Carriers |
Meldin® 7001 is a Polyimide Worth Considering Over Competitive Products
TriStar is pleased to be the exclusive North American distributor of Meldin® 7000 series materials from Saint-Gobain OmniSeal Solutions™, which offer the traditional benefits of standard polyimides with several key improvements.
Extensive testing of Meldin® 7001 unfilled polyimide compiled by OmniSeal Solutions shows similar properties to competitive materials with clear advantages in a few areas, such as outgassing, plasma etch resistance, and lower contamination levels of several of the metals typically found in polyimides. Our engineers would be happy to discuss these results with you. In addition, we believe you will find Meldin® 7001 to be very competitive in terms of price and availability.
For Semicon, TriStar has Solutions for all of Your Specialized Material Needs
As you consider ongoing needs for more processing equipment and spare parts, consider Meldin® as a cost effective (up to 50% less expensive than the metal components they effectively replace), thoroughly tested, and domestically produced option. Meldin® materials can be processed using a variety of manufacturing techniques, including injection molding, finished custom components from prototype to high volume production.
TriStar also produces components made from fluoropolymer for wet processes, bearings and seals for various mechanical devices, and packaging and assembly end materials with ESD additives, excellent chemical resistance and various temperature options.
Through years of material testing and experience working with manufacturers of all sizes, TriStar is here to help with material selection, part design and prototype-to-production machining capabilities. Please don't hesitate to reach out if you'd like to learn more about our products and services.
The "New Meldin®" Opens Up New Possibilities for High-Temperature Polyimides