Rulon® Bearings Excel as Drop-in Replacements for Bioreactor Steady Bearings
A major pharmaceutical company came to TriStar seeking a bearing solution for their single-use stirred tank bioreactors. This device is used to cultivate organisms in a sealed containment system with a controlled environment. This guarantees the optimal growth and metabolic activity of the organism − usually cell cultures.
There are also microbial bioreactors − also referred to as fermenters − and these are commonly used for developing fungi, yeast and bacteria. One of the key components of bioreactors is a flat blade stirring impeller of different designs (depending on the speed and shear requirements of the media).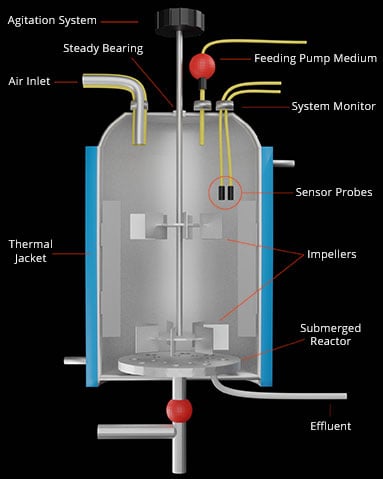 Stainless Steel Ball Bearings on Impeller Shaft were Too Noisy and Required Excessive Maintenance
The impeller shafts are supported by a steady bearing in the top of the tank which has historically been a stainless-steel ball bearing. These bearings required lubrication and seals and had to be able to meet aseptic standards. The customer had also tried ceramic bearings in the reactor but, without lubrication, they produced more noise than the customer could tolerate.
FDA-Compliant Rulon Bearings were Ready-Made for this Application
TriStar offers several FDA plane bearing options for applications in both pharma and food processing mixers, blenders, and compounders. Rulon 641, Rulon 1439, Rulon 1337 and Rulon 123 all meet the standards set by these regulatory agencies. Rulon 641 and 1439 also meet USPVI requirements geared specifically towards the pharmaceutical industry.
The advantages of these Rulon materials include:
They are all self-lubricating.
They run against soft stainless materials without abrasive wear of the shaft.
They can carry loads up to 1000 psi.
They can handle speeds up to 500 fpm wet or dry.
They meet aseptic standards and can withstand exposure to typical CIP solutions.
In addition, Rulon bearings offer a simple design with no moving parts − so noise is not an issue. For this particular application, we determined that Rulon 1439 was the best fit.
Reach out to TriStar - The Exclusive North American Distributor for Rulon Bearing Materials
Rulon bearings can also be applied to other similar steady bearing applications in food processing, dry compounding and chemical processing equipment. If you have an application that you think Rulon would be ideal for, feel free to reach out to us with the details and we can get the conversation started.