TriSteel Bearings Keep Triangular Drive Systems on Track
For several years TriStar has worked with various track drive manufacturers supplying bearings for unique triangular drive systems. These systems are heavily used in the agricultural and construction industry but are becoming more mainstream with their application to UTVs, ATVs, snowmobiles and even regular cars and trucks.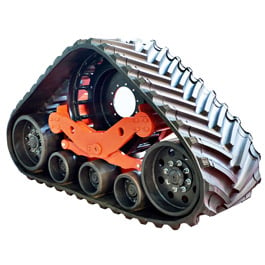 Track Systems Better Transmit Power and Reduce Surface Damage on the Ground
Some of the advantages of track systems are that you get better power efficiency, better traction over different terrains and, most importantly, reduced ground impact. For operation in sensitive land areas the track decreases the PSI applied to the ground which means less damage. Today, these tracked vehicles can be found in numerous industries including oil and gas for pipeline inspections, small construction equipment, off road land survey vehicles and even winter sport use. The future could potentially bring systems that can convert from wheel to triangular on the fly!
TriSteel Bearings are a Key Component in Track Systems
Our role in all of this has been in the drive system of the track itself. The system includes multiple road wheels which help keep the track aligned and these wheels are on levered arms to keep the track in tension. Multiple undercarriage suspension and drive components utilize our TriSteel bearings.
TriSteel bearings are polymer-lined, metal-backed bearings that retrofit (and outperform) lubricated bronze bushings and even rolling element bearings. TriSteels are predominant in these applications because they are cost effective, self-lubricating, can take the abuse of the terrain and track loads in the often-punishing environments these systems operate in.
TriSteel Delivers:
Self-lubrication - both inner and outer layers.
Longer wear - The metal backing supports liner materials made to withstand high loads, high speeds and adverse environments.
Standard or metric dimensions - TriSteel bearings are available in inch and metric dimensions in various combinations of liners and backing materials.
TriStar Plastics – Your Best Source for High Performance Composite Bearings
Our engineers have decades of combined experience working with high-performance polymers. Reach out to our team if you have any questions about our products or need assistance sourcing any specialized material for your applications.