FCJ Bearings a Ray of Sunshine in Solar Panel Arrays
Solar panels are here to stay — though some naysayers believe they won't ever produce the kind of energy levels needed to make a difference. But with state and federal mandates and incentives to go green, the technology of solar energy is changing rapidly to meet new demands. From stationary roof top panels to massive solar fields in the southwest deserts, the sun is changing the way we keep our homes cool and our factories running.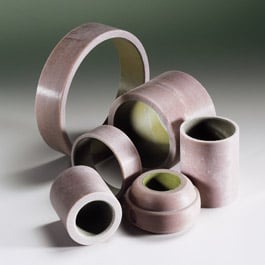 Soft HDPE Material Resulted in Compressed Bearings – and Equipment Failure
A large solar array manufacturer contacted TriStar about a design flaw in their tracking systems. They had originally designed very simple, low-cost HDPE (High-Density Polyethylene) sleeve bushings to support 48" x 72" panels that followed the sun as it passed from east to west. Each panel weighs approximately 400 lbs on the steel frame, and that load on the HDPE was compressing the bushing.
Another problem was that HDPE has a very high thermal expansion rate and tolerances started sloppy and just got worse from daily wear. It became a maintenance nightmare and warranty claims were high.
FCJ Composite Bearings Handle Extreme Loads – and Keep the Tracking Arrays Moving
TriStar's engineering solution was our FCJ bearing — a filament-wound, high-load bearing with a very low friction liner. Unlike the HDPE, the FCJ can handle extreme loads without deformation. While HDPE has a compressive strength of 1500-2000 psi, FCJ's strength is over 20,000 psi, dynamically.
FCJ is thermally stable with a CoTE (Coefficient of Thermal Expansion) about the same as the surrounding metal housing. FCJ's do not absorb moisture, are UV stable, self-lubricating and will not corrode in harsh environments. They are also made in the USA.
While the initial cost for the FCJ is considerably higher, our customer found in a cost/benefit study that it could all but eliminate warranty claims and give their customers several years of maintenance-free performance, versus several months with HDPE.
TriStar Can be Your Engineering Partner - From Prototype to Production
At TriStar, our engineers excel in finding the most cost-effective solution for tricky bearing challenges, bringing decades of combined experience to the table. We invite you to check out the many applications highlighted in our technical library and encourage you to reach out with any specific technical questions you may have.