Rulon® 1439 Bearings Increase Potato Chip Production Rates
One of TriStar's food processing customers makes potato chips, some air-baked but others using the traditional method of continuous oil frying. Our engineering department was asked if we might have a solution for replacing a double-sealed stainless steel ball bearing in their hot oil pumps.
These are recirculating pumps used to produce flow of hot oil through the continuous fry tank and, in the process, this oil is routed through filters and back to a primary oil feed tank. The temperature of the oil is approximately 350°F and the speed of the pump shaft varies but can get as high as 2800 RPM on a 1 inch shaft made of stainless steel.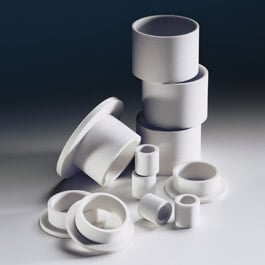 Hot Oil Migration Leads to Premature Pump Failure
The failure mode on the current bearings was that − even with double seals − the hot oil would get in the ball/race area and over time would thicken and cause the bearing to drag. This would lead to a drop in pump flow and the process became inefficient.
Some of the other challenges presented were that whatever material we chose had to be able to withstand standard CIP (Clean-in-Place) processes, be stable in the hot oil, have some resistance to small particulate that could pass through filtration, and maintain 24/7 operations. All this and it also had to meet FDA and manufacturer's internal health and safety requirements.
After Evaluating the Situation Our Team Recommended FDA-Grade Rulon 1439
TriStar's engineering team went with our standby FDA grade material, Rulon 1439. This is a strong performer in wetted operating conditions, is FDA and NSF cleared, runs well against stainless hardware, has a temperature range of -400 to +550°F, and can withstand CIP cleaning solutions.
Rulon 1439 is one of four FDA Rulon materials engineered for high performance demands when heat and operating conditions require reliable performance for the long haul.
Learn More About Rulon and Find Out How It Can Improve Your Manufacturing Output
To learn more about the Rulon product line grab a free copy of our Rulon Bearings white paper, and if you have a specific application or a material question you'd like to run by our engineering team, don't hesitate to reach out.