Improving Droplet Dispensation Systems for POC Device Manufacturing
Point of Care (POC) devices are portable diagnostic tools used to obtain results while with (or close to) the patient as opposed to in a laboratory setting. These devices are often used for testing things like blood glucose levels and, most recently, the presence of the COVID-19 virus.
Today we are going to talk about some of the challenges in dispensing extremely small volumes of liquid (ranging from microliters (uL) to picoliters (pL)) of the reagents used in the manufacturing of these devices and show how TriStar's Enhanced Materials division (EMD) partners with their customers to complete engineering studies, qualify manufacturing specifications, and improve the performance of these critical tools.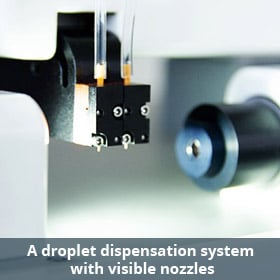 Maintaining High Levels of Repeatability/Reproducibility in Droplet Dispensing Systems Can Be Challenging
Specialized POC areas using the latest technology include life sciences, pharmaceutical research, and diagnostic industries. Currently, non-contact methods are used extensively. Non-contact dispensing is when a small volume is ejected from a nozzle so that it forms a droplet that impinges onto a surface. Another method that is used, yet not as extensively, is contact dispensing. Contact dispensing technology can also be described as pin printing, stencil printing, or screen printing.
Diagnostic device manufacturing has very strict requirements for repeatability and reproducibility. As the FDA pushes the POC market to achieve performance akin to that of large lab systems, high speed manufacturing of these devices must enhance their processes to reduce the tolerance stack.
Furthermore, there are many different liquid solutions that are handled simultaneously and discretely to avoiding contamination. Moreover, liquids containing cells or micro particles must be dispensed, which presents additional technical challenges.
Below is a specific example of the engineering assistance TriStar EMD provides for its customers. The focus of this study was to identify the setup of a valve to ensure individual droplets are dispensed one by one in a controlled way.
Process Challenges:
The test valve exhibited excellent actuation and accuracy with fluids with relatively low viscosities. Yet, modifications to the valve and adjustments to the setpoints in the controller must be performed for higher viscosity fluids. The reagent fluid used for this test had a viscosity of 700 CPS. Due to this relatively high viscosity and the inherent bulk property of the reagent, proper setup and tip maintenance was necessary.
We explored the effects of temperature on the valve performance. Based on the data below we see that a good temperature and pressure to operate is around 60° C and 100 psi.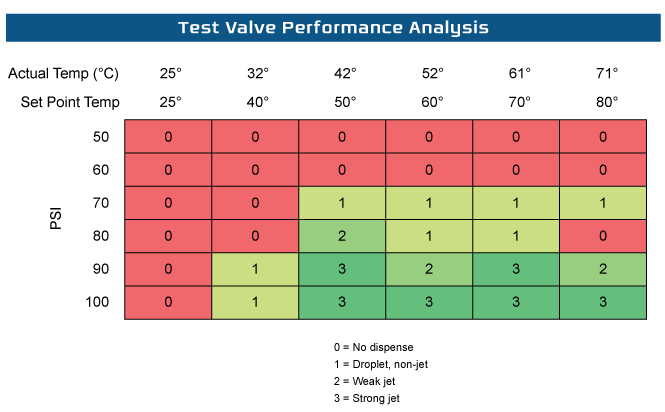 Tristar EMD completed the engineering study, generated an MSOP (Manufacturing Standard Operating Procedure) and supporting quality documentation and provided the package to the customer facilitating their project requirements and to the next phase.
TriStar's Enhanced Material Division Can Help you with Challenging Engineering Problems
This is just one example of the sort of in-depth analysis and comprehensive engineering support that the engineers and scientists at EMD can provide. For more information about our capabilities and services we invite you to explore our EMD web page and, as always, please feel free to reach out if you have a project you wish to discuss with us.