Cold Plasma Treatment Helps Implant Dentistry Create Beautiful Smiles
Dental implants are generally thought of as a recent innovation but can actually be traced back 4000 years to ancient China. Remains have been found with carved bamboo pegs tapped directly into the jaw to replace lost teeth. Today's technology allows for implants that replace a full tooth with one that looks and functions like the real deal. Read on to learn how TriStar's EMD division uses plasma technology to improve treatment outcomes.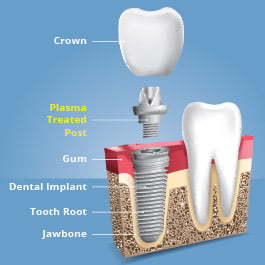 Current Implants Actually Fuse to the Jawbone – Creating an Incredibly Strong and Stable Root
Unlike a crown, which requires some portion of the tooth still in the jawbone, an implant is used when there is no useful tooth remaining. The implant is made of titanium and other materials that fuse with the jawbone and imitate the root of a tooth. This artificial root allows the dentist to secure the replacement tooth, so it feels stable and blends in with your surrounding teeth.
A Super-Clean Post is Critical for a Successful Implant Outcome
With both crowns and implants the key to a successful treatment is the stability of the post and TriStar's EMD (Enhanced Materials Division) has helped a specialty implant clinic by preparing their posts for bonding in the jawbone. With new post surface technology for holding the adhesive it is imperative that the metal be super-cleaned and enhanced for maximum bond-ability.
Cold Plasma Technology the Key to Maximum Bond Strength and Stability
TriStar uses cold vacuum plasma to accomplish this goal unlike other techniques where corona or air plasma are used. In those cases, the treatment requires that the implant be installed immediately. With TriStar's technology the metal can be treated and held in storage for several weeks without degradation. This ensures the maximum bond strength to keep the tooth stable for years to come.
Plasma can be used to make any surface, including metals, plastics and elastomers, hydrophobic or hydrophilic as the application requires. In the case of the metal implant, plasma also offers the additional advantage of atomically cleaning the metal for the highest purity possible before installing it in the patient.
For more information on how plasma services can enhance your products contact TriStar's EMD group!