Ultracomp® Bearings Ensure Rapid Deployment of Navy Transport
You might think saving a bit of weight in trailer suspension bearings wouldn't make much difference. But when transporting the Navy's Mark V Special Operations Craft, it means a lot. Even a modest gain in deployment speed can determine if a mission is a success or failure.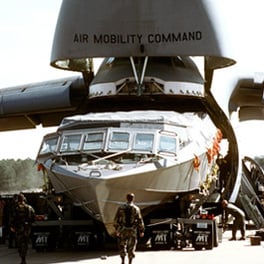 The Navy Mark V SOC (Special Operations Craft) is a specialty marine vehicle used by the US Navy for patrols and special forces insertions in low to medium threat environments. It was introduced in 1995 as the first dedicated marine craft designed for SEAL use.
The 82-foot and 52-plus ton Mark V SOC is a significant technical achievement and one that has proved its mettle. However, that is not the entire story. Often, the Navy needs to transport these boats some distance before launch. To do so, they rely on a purpose-built trailer supplied by one of our customers.
A Specialized Transporter Purpose-Built for Precision Movement and Rock-Solid Reliability
Our customer specializes in heavy load trailer systems used to transport everything from commercial aerospace components to petrochem processing components, so maintenance-free service and long wear life are critical. These requirements are even more critical in military applications.
With an active suspension system that is lifting, rotating and sliding to help position the boat in a C5 transport plane, bearings must be lightweight, have very low friction, be capable of carrying high loads while standing up to corrosive sea water, sand, and over-the-road contamination.
Ultracomp Bearings Provide Clear Benefits for this Critical Application
TriStar's Ultracomp Composite Bearings are available with several different internal lubricants and high load composite technology to offer the end user reliable, self-lubricating bearings that can endure the extreme loads encountered in this application while providing a long service life.
Some of the benefits of Ultracomp in this application include:
Compressive strength of over 54,000 psi ensures reliable lift and carry without failure.
High-load capacity – better load distribution leads to smooth operation.
No grease means no worries about attracting grit and dirt.
Good shock resistance means no more bearing misalignment or risk of separation.
TriStar takes pride in supporting the efforts of our military OEM customers that allow for fast, efficient deployment around the world to protect our freedoms here at home.
If you think your application might benefit from the performance and low-maintenance characteristics of composite bearings, reach out to our engineering team to share the details.