Surface Modification Techniques for Rapid COVID-19 Testing
As researchers race to contain the deadly COVID-19 virus and develop an effective vaccine, much of the focus now is on developing new tests that can be rapidly deployed to help us get a sense of where the virus has penetrated already and to help reduce the spread.
The engineers in our Enhanced Materials Division (EMD) have been developing innovative surface modification treatments to improve outcomes for some time and are currently treating microfluidics for actual COVID-19 diagnostics. With that in mind, we thought we'd provide some information about how these systems work.
Point of Care Testing Systems – How They Work and Why they Are Critical Now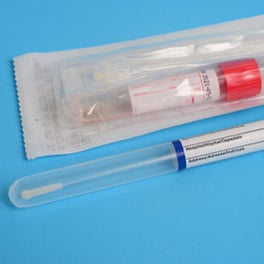 Point of care immunoassay systems enable rapid response to tests given at clinics, doctor's offices and ER rooms. These systems use various methods for identifying the specific nature of viruses by using test plates that are marked with reagents which light up when the "bug" is found in the sample.
These convenient hand-held devices give the caregiver results in a matter of minutes — not days or weeks like the more traditional tests in currently in wider use.
Optimal Wettability is Key for Fast, Accurate Test Results
For the COVID-19 tests we are surface-treating the microfluidic devices to improve their wettability. Consistent wetting is important to ensure uniform sample volume delivery to the assay which minimizes false negatives or flow artifacts.
The bottom line: Faster, easier COVID-19 point of care tests help doctors identify the disease quickly so treatment can begin (and to provide ease-of-mind for patients).
Contact Tristar for Help with All of Your Surface Modification and Material Selection Needs
In addition to the specific testing projects outlined above, we are providing specialized membranes and other materials for a range of diagnostic devices and related equipment.
Finally, we have been fielding general inquiries from manufacturers and researchers who are trying to source specialized or commodity plastics for various projects that are either directly related to COVID-19 or are indirectly supporting the efforts to combat it.
Stay safe, and please feel free to reach out via the orange button under our new EMD video, below.