TriSteel™ PT Metal-Backed Bearings Raise Hoist Effectiveness
A customer recently contacted TriStar about an increase in field failures on a manual lifting hoist the company manufactures. These are chain hoists seen in many different industries for lifting loads up to 10,000 lbs. and the failures were with the chain pulley bushings. Traditionally, the customer has used an oil-impregnated bushing from overseas and, increasingly, quality issues were becoming an issue.
Enter TriSteel – The Metal Backed Bearing System Designed for Rigorous Applications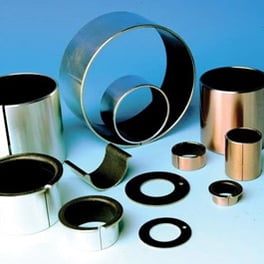 After looking at the application and studying the requirements, TriStar engineers suggested a couple of options: either our CJ Composite or TriSteel PT bearings. After discussing the long-term goals for product expansion with the customer, we jointly agreed that the more cost-effective solution with the highest load potential for future designs was the TriSteel PT bearing.
TriSteel bearings are metal backed, polymer-lined bearings that are self-lubricating, carry very high loads, have very low friction and are cost effective. The customer wanted all these features to support their ongoing efforts to improve their product. In addition, they wanted to be able to buy from a US company with stock to support ever-increasing production milestones.
Other TriSteel Benefits Include:
Thin wall means smaller design envelope
Thermal expansion same as steel
Functions well in dirty environments
Doesn't absorb water
The Bottom Line – Strength and Simplicity Deliver Piece of Mind and Unmatched Performance
Simple, cost-effective, no grease required, and able to support the customer's plans for higher loads and manufacturing output moving forward. For this customer, TriSteel PT was the perfect solution!
Before you go, check our new video, below, to learn more about the TriSteel product line.