Asymmetric PES Membranes Enable On-Device Blood Testing
A growing trend in the manufacturing of in vitro medical devices is the incorporation of blood plasma separation membranes directly on the device to minimize user steps, contamination, and reduce variability. TriStar engineers have worked with leading diagnostic manufacturers to help design and provide materials to make this possible. One such material is our Ultraflon M10.
Ultraflon M10 Hydrophilic Membranes are the Key to IVD Testing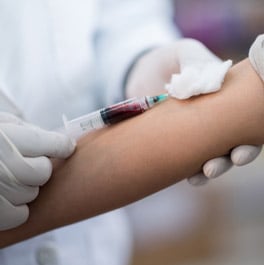 The term In Vitro Diagnostics (IVD) is used to describe devices that analyze samples (in this case, blood) taken from the human body, as opposed to testing inside the body.
Whether the plasma sample is needed for highlighting antibody markers (monograms that help identify and classify cells) or for molecular testing, TriStar's Ultraflon M10 hydrophilic PES (polyethersulfone) membrane can provide fast plasma separation by gravity or slight vacuum.
Ultraflon M10 is an asymmetric membrane which is modified to minimize assay interference (the effect of a substance present in the sample that alters the correct value of the result). The process we use enhances the red blood cell accumulation, which allows fast plasma flow-through. Additional benefits:
High efficiency
No hemolysis (

destruction of the red blood cells

)
Low protein and analyte binding
Low CVs on flow rates
While these membranes are used primarily for filtration of water or whole blood, their asymmetric (variable pore diameter) structure makes them useful for many filtering processes where precipitate or solids recovery is not important.
TriStar's Enhanced Material Division (EMD) Specializes in Developing and Enhancing Innovative Membranes
Our EMD chemists and engineers are continually working to develop and improve membranes for a variety of purposes, which include (but are not limited to) blood testing, molecular diagnostics, water filtration, and industrial fluid separation. Some other filter media polymers we work with include PTFE, PVDF, Nylon, and PP. Learn more about the types of membranes we offer or reach out if you have an application you'd like to discuss.