Special PEEK Rotor Insert Eliminates Failure in Chemical Pump
One of the trickiest engineering challenges that we face here at TriStar is sourcing plastic components that work effectively and reliably in environments where the equipment is exposed to caustic chemicals. A major chemical processor came to us with an issue where exposure to acids was resulting in premature failure of pump rotors.
A Clever Design That Didn't Always Work as Expected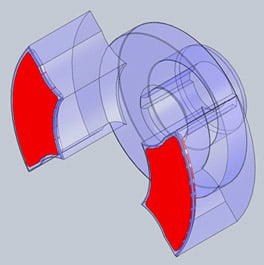 In this case, the system was a processing pump that uses a rotor system to produce flow.
As initially designed, the rotor relies on the acids being processed to produce a hydrodynamic lubricating film across the faceplates. This looked great on paper, but in actual use, engineers found that this system still left open the opportunity for metal on metal contact.
The operating environment of this particular pump was in sulfuric and acetic acid at 120°F against 316L stainless steel. After studying the pumps while in use, TriStar engineers felt the best option was to isolate the rotor from the case by using polymer inserts in the rotor face.
Additionally, our engineers had to develop a good method for mounting these inserts and settled on a special adhesive resistant to acid along with mechanical fastening.
Bearing Grade PEEK Delivered Performance and Reliability Along with Excellent Chemical Resistance
A special bearing grade PEEK was selected that can withstand the chemical exposure and operating temperature and is dimensionally stable (as there are tight tolerances on the inserts). It also offers low friction if there is a loss of fluid film as well as excellent wear life.
Because it is easily machined and fabricated yet extremely strong, PEEK is often specified for extremely high demand applications, including in aerospace, oil and gas and medical implant use, where its biocompatibility is a key benefit.
Reports back from the customer show that the design is giving them longer wear life on the rotor and body and they have now approved our design for pump rebuilds throughout the plant.
Tristar Plastics Is Your Source for High Performance Plastics and Composites
If there's anything we can do to help you bring your engineering projects to fruition, please don't hesitate to reach out.