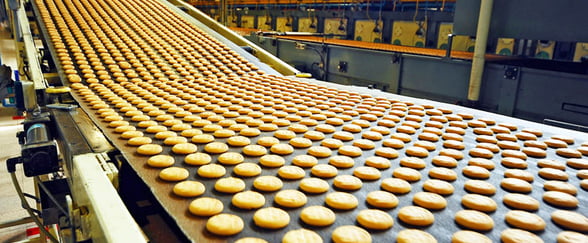 From food packaging and processing to general material handling, the conveyor roller bearing is an underrated superstar of the manufacturing floor. You might even consider it the heart of the whole conveyor assembly. But how does this essential bearing assembly work?
As the name suggests, conveyor roller bearings have a cylindrical shape and are designed to carry heavy loads, since the weight is evenly distributed over a large surface area. Also referred to as cylinder rollers, this bearing type can easily handle radial (but not thrust) loads. For a good fit, we always recommend choosing a conveyor roller bearing with the largest diameter at the shortest length in order to minimize roller deflection. For tight spots, needle bearings (a close cousin to roller bearings), offer a very small diameter design envelope.
Plastic roller bearings offer significant advantages over metal; they are lightweight, require no manual lubrication and do not rust or corrode after sanitation baths. And since they require less energy to turn, they can help you reduce energy costs. Roller bearings excel in virtually any manufacturing environment from cold rooms (explore how Ultracomp plastic bearings increased production for a manufacturer of in ice cream), to tough, heavy-vibration manufacturing areas. Ultracomp bearings are available in tube and sheet stock, or can be fabricated to your exact specifications (fill out a design worksheet for a custom quote).
See how plastic conveyor roller bearings work in our video:
Need more info? Connect with the Conveyor Roller Bearing experts!