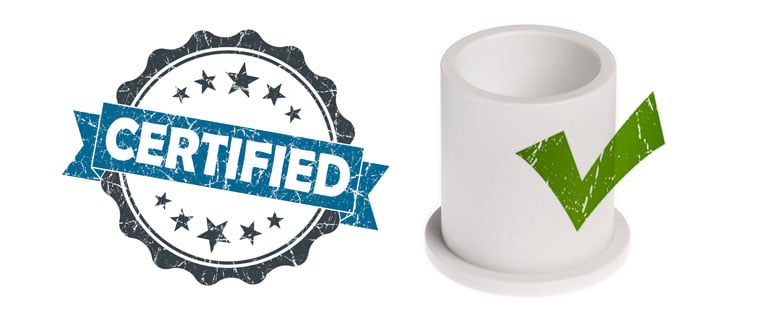 When it comes to sourcing your bearing components, do you consider third-party bearing certification? Is it important to the success of your application? And if so, why?
From safer food handling to more durable marine components, here's why we are big believers in bearing certification, and why it should matter to you:
Industry certification matters because product confidence matters. Independent bearing certification is the "Good Housekeeping" seal of quality commitment for industrial manufacturers. With certification, manufacturers are assured of independent testing for specific operating environments. Bearing certification can also expedite sourcing by ending repetitive engineering review. This can mean faster market approval for your products.
Certification for the Food Industry - Why is it important to manufacturers? The FDA regulates the composition, additives and properties of materials to ensure they are suitable for contact with food products. Approved plastic bearings can help food equipment manufactures reduce cross-contamination in meat and poultry processing, for example. Read more about bearing certification and sanitation in the Food Processing technical paper.
Certification for the Marine Industry - Why is it important to manufacturers? The American Board of Shipping (ABS) Type Approval indicates that materials are suitable for marine and offshore applications. ABS-approved products demonstrate conformity to industry quality standards, and can be easily searched in the Type Approval database. TriStar's Ultracomp bearings are ABS-certified for offshore and dockside marine use.
Certification for the Medical and Pharma Industries - Why is it important to manufacturers? Medical plastics that may contact human tissue or fluids must be tested for biocompatibility. Testing procedures are generally issued under USP or ISO 10993. Biocompatible plastic bearings include select grades of PVC and Polyethylene, PEEK, Polycarbonate, Ultem PEI, Polysulfone, Polypropylene and Polyurethane. Rulon 1439 is certified for medical plastics.
For pharmaceutical manufacturers, NSF-compliant bearings have met certain safety, quality and audited standards.
Ultimately, industry certification helps manufacturers source bearings that can be trusted, while giving consumers confidence in their end products. Is bearing certification important to your industry? Tell us what you think!