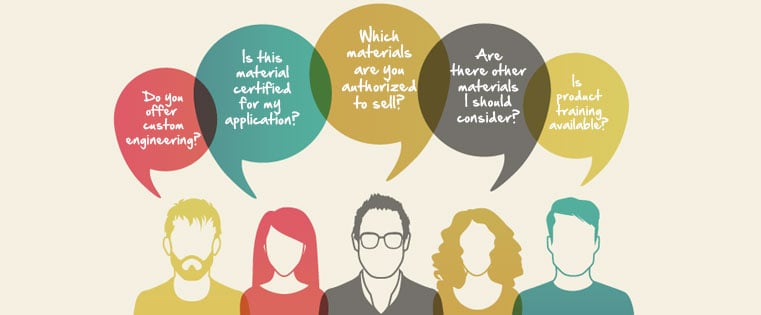 John D. Rockefeller famously said, "The secret to success is to do the common thing uncommonly well." While many manufacturers may consider bearings to be a 'common thing', ultimately, it's the quality of the support you receive from your bearing manufacturer that can make all the difference. Education, training and communication can help you reach an informed decision, along with asking these 5 key questions:
So you've designed a new component and need to source the right bearing manufacturer. Where should you begin? At TriStar, we're honored to have partnered with top manufacturers in dozens of industries over the last three decades. We advise that you ask these questions:
Which materials are you authorized to sell? - In our view, this is a critical first question, since not all bearing suppliers are authorized to sell certain materials. Unfortunately, counterfeiting remains a challenge in the bearings industry. By working with an authorized supplier, you can be assured of receiving a genuine product. Learn how to recognize genuine Rulon products.
Is this material certified for my application? - It's critical to ensure that the materials you are purchasing are within regulatory compliance for your application. Need FDA, 3A or USP certification? Third-party certification ensures that a bearing manufacturer uses pure materials and follows stringent quality and safety standards. Pre-certified bearings can also help get your product to market faster.
Are there other materials I should consider for my application? - While you may have a specific material in mind based on your criteria, a good bearing manufacturer can provide additional options. Is there a lower-cost material which would achieve the same result? Can the material be fabricated or enhanced to give longer service or better value? Asking the right questions will yield the best result.
Do you offer custom engineering? - Customization goes well beyond just sizing materials to fit your application. Consider if a bearing manufacturer offers full-service capabilities to enhance the raw product. Do they machine inhouse? Can they alter the surface properties of the product? These answers are important to know so that you can avoid sending your product outside for processing. Inhouse services can cut down production time to help you make your delivery deadlines.
Is product training available? - Customer service should go beyond just the sale of the product. Is there an engineer available to answer your questions? Are training materials offered? Consider a partner who has a resource-rich website. Training videos, educational papers, case studies, calculation tools and other resources can help you stay current.
By asking a few targeted questions, you'll not only increase your knowledge, but reduce the chance of making mistakes. Ultimately, we recommend that you look for not just for a bearing manufacturer, but a bearing partner.