P4 liner improves performance and reduces replacement costs
TriStar announces a new design of our TriSteel bearings which can significantly extend operating lifecycles and reduce replacement costs in high-speed reciprocating and rotary applications. The TriSteel P4 bearing delivers where performance and longevity matter most; including shock absorbers, piston rods, and pump, compressor and gear applications. Initial stroke tests confirm that friction coefficients as low as 0.04 dynamically ― and virtually the same statically ― prevent stick/slip while keeping running frictions constant.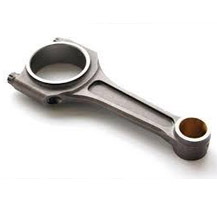 New liner solves alignment challenges, reduces costs
TriSteel bearings have a long history of solving wear challenges for automotive, construction, railroad and marine manufacturers. Unlike standard metal bearings, they are designed with dual liners to reduce erosion caused by constant exposure to friction. They can also protect expensive machinery in the event of a liner failure. Now with the new P4 liner and geometry ID, TriSteels can actually correct shaft misalignment in high-speeds by centering the shaft to spread the load evenly over the full surface of the bearing, rather than just the ends. This innovation gives the bearing a longer operating lifecycle and reduces replacement costs for manufacturers.
TriStar solves industrial demands, manufacturers embrace new design
Our design team engineered the new bearings with heavy-duty industry in mind. TriSteel P4 bearings are particularly effective in environments with extreme load variables, side load demands, and critical temperature requirements. Common applications include:
Automotive shocks
Motorcycle struts
Micro-compressors
Hydraulic gear pumps
Refrigeration compressors
Stamping machines
Which TriSteel formula is the right fit for your application? Explore our Materials Database to learn more, or reach out to our Engineering Experts. We can help you get a precise fit to meet the needs of your design, and your budget.

Excellence in bearing innovation, engineering, and fabrication ― that's the TriStar Advantage!