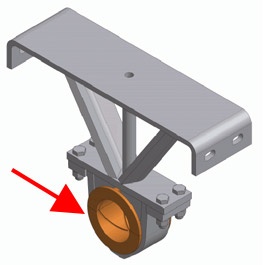 The Rulon family is growing!
With over 300 unique formulas currently available, today we announce the availability of Rulon 1834 for unsurpassed performance in conveyor hanger bearings where the media is highly abrasive or in chemical environments. Rulon is universally recognized as a blend of PTFE plastics with superior abrasion resistance, low COF, plus good temperature and chemical tolerance. Now Rulon 1834 takes performance to the next level by also delivering significant savings.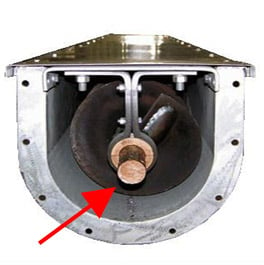 Why another new Rulon formula?
Rulon 1834 is designed to replace cast nylon and bronze materials in extreme conditions like screw conveyor hanger bearings. It operates in difficult chemical environments, in temperatures up to 450° F, and in abrasive conditions like conveyors transporting dry grains and other food products.
What are the potential savings?
Our partner is a major producer of PTA (terephthalic acid), and has been testing the Rulon 1834 hanger bearings. Before Rulon, their core flange bearings were made of cast nylon, but the nylon material could not withstand the abrasive powder for long periods. Bearing failure was a common occurrence, and bearings were replaced every 2 months. This became a maintenance chore which resulted in an additional order of 50 bearing units each year.
Rulon 1834 = savings of over $145,000!
After replacing nylon flange bearings with Rulon flange bearings, our client has realized a savings of over $145,000 in one year! This number represents not only an initial savings on purchasing, but saved time in equipment downtime, and lower conveyor maintenance and replacement costs.
Ready to see your savings add up?
Let's get some testing started for your conveyor bearing application! We'll outfit your equipment with the Rulon material that works best for you, or compare the formulas here!