Marine Bearings Deliver in Extreme Competition
The America's Cup competition demands the best-of-the-best; from the teamwork and perseverance of the sailing crews to the superior design and engineering of the competing vessels. As the world watched Team USA's spectacular come-from-behind win over Team New Zealand last month, we at TriStar were rooting for the home team – Team TriStar. Our CJ composite bearings powered the hydraulics aboard several of the elite vessels throughout the rigorous 19-race series, which culminated in a tremendous finish off of San Francisco Bay.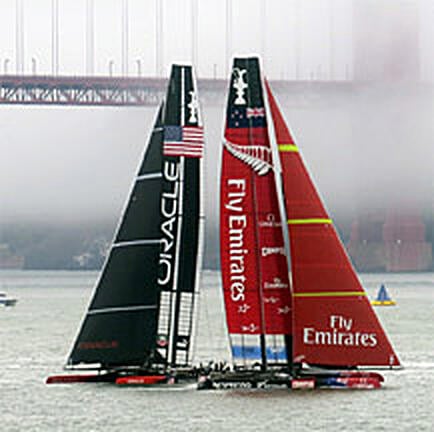 CJ gives agility and longevity
Recognized for their superior design flexibility and resistance to corrosive salt water, CJ composites are the bearings-of-choice for the fair leads and rope sheaves of high-speed catamarans. Their unique strength and low weight provided an agile solution to help crews maneuver the 132-foot wing sails, even at speeds that reached 40 knots. And in a competition where seconds counted and there was no time for routine maintenance, CJ composites provided a longer service life by resisting the corrosive effects of UV rays and pounding seas. CJ bearings excel in linear, oscillating and rotary applications with high-loads.
Bearings beyond racing
While CJ bearings are the workhorses in our marine inventory, TriStar also manufacturers Ultracomp bearings, which have achieved classification by the American Board of Shipping for a variety of onboard and dockside applications. In fact, we recently solved a unique challenge for the transom pivot points aboard luxury yachts.

From world-class race bearings, to yacht transoms and even marine cranes, TriStar leads the industry in marine bearing solutions. To learn more about the advantages of composite bearings, sail on over to the experts at TriStar, after all, we've competed aboard the sailing world's most elite vessels.

Be sure to join the conversation on our Tech Talk blog for the latest innovations in marine design!
Main photo credit: chatani via photopin cc
Small photo credit: rulenumberone2 via photopin cc