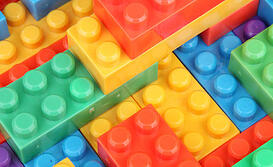 Agriculture, railroad, construction and other heavy-duty applications are primary areas for Ultracomp bearings – but did you know that the material also helps the "Toy of the Century" meet their holiday production goals? Here's how:
As the holiday gift-giving season revs into high gear, toy manufacturers look for every advantage to meet increased demand. After all, a breakdown on the production line can lead not only to costly repairs, but potentially missed shipments to toy retailers worldwide.
When the maker of plastic building blocks approached us to replace their failing metal bearings on their conveyor systems, Ultracomp was the natural choice. Our client described how the blocks begin as granulated plastic and are sent to the high-temperature molding machine. Once molded, the blocks roll along to packaging where they are sorted by shape, color and size and packaged into specialized kits. The metal bearings our client had installed on the conveyors would seize up from the dust generated in molding. The dust adhered to the grease that was applied to the metal conveyor units. The grease also dripped onto the formed parts, which caused a serious quality control challenge.
Since switching to grease-fee Ultracomp bearings, our partner reports the conveyor belts resist plastic dust to run more efficiently and deliver better quality products. And unlike metal bearings, Ultracomp bearings resist friction and vibration and excel against the stainless components of the production line.
We might even say that Ultracomp delivers the performance of the century to the "Toy of the Century!"
Have you seen the latest Ultracomp Video for more applications of this self-lubricating material? Check it out below!