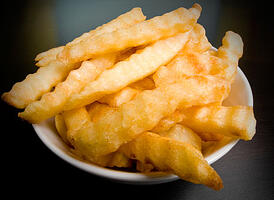 Have you obtained your free copies of our Food Processing and Food Packaging technical white papers? Here you'll learn how food manufacturers are increasing production levels and improving safety ― simply by replacing traditional metal and bronze bearings with durable, value-driven composites and polymers.
Another unique food bearing challenge recently came through our custom fabrication shop when we developed Ultraflon components for a brand new French fry machine.
Here's how:
Our partner developed an all-new machine that converts granulated potatoes into crispy fries in just under a minute. The process involves rehydration, pressing, cutting and frying of the potato product to achieve the perfect product consistency. With special UL and NSF requirements in place, Ultraflon excelled as a structural and component bearing in this demanding, quick-fry application. Ultraflon offers superior wear and extrusion resistance, plus low friction to accommodate the machine's unique design envelope.
Want to explore custom components for your food application? Check out our custom fabrication video or request a quote today!