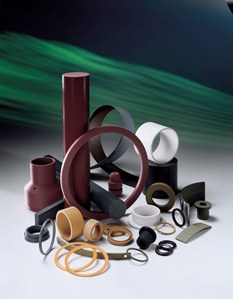 TriStar Plastics today announced it has been named as the exclusive, North American distributor of the Rulon®, Rulon® Bearings and Fluoroloy® family of bearing products by Saint-Gobain Performance Plastics. This exclusive agreement is the culmination of a nearly 30-year partnership between TriStar and Saint-Gobain. "We are honored to broaden our relationship with Saint-Gobain through an exclusive parnership agreement," said Richard Cedrone, CEO of TriStar Plastics. "The Rulon solution offers unique benefits to our customers across a broad-range of industries, including food and beverage, agriculture, medical device and manufacturing. This partnership is a natural step in allowing us to better serve our customers."
Rulon and Fluoroloy bearing materials excel in heavy-duty and high-load applications by offering a combination of low coefficient of friction and excellent abrasion and corrosion-resistance. They also outperform and outlast other materials, including metal, and are self-lubricating for enhanced efficiency and reduced maintenance costs.
"At a time when equipment manufacturers are looking for a competitive edge and a way to reduce expenses, TriStar brings a tremendous amount of knowledge to the table," said Victor Lapinski, North American Distribution Manager at Saint-Gobains' Seals Division. "Their technical expertise, multiple distribution centers, and commitment to customer service make them an ideal choice and an elite business partner." The agreement is effective immediately.