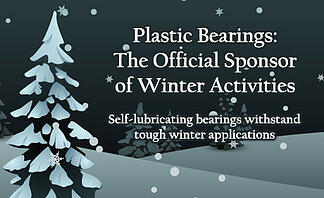 Self-lubricating bearings withstand tough winter applications
As we end another year, all of us at TriStar would like to wish you Happy Holidays! We also wanted to share with you some of the many ways in which plastic bearings are delivering for the winter season. From helping to harvest the holiday tree, to producing the toys under it ― and even smoothing the ride on winter ski slopes ― self-lubricating plastic bearings could be considered the official sponsor of winter activities!
CJ harvests the holiday tree…
Forestry equipment requires materials that are durable enough to resist extreme elements, yet gentle enough to protect fragile ecosystems. CJ self-lubricating plastic bearings deliver on both counts. The material is capable of withstanding extreme terrain and all-weather conditions, and because it runs grease-free, eliminates the risk of oil spillover that is common to metal bearings. With CJ bearings aboard their equipment, tree harvesters are able to reduce costly maintenance and meet holiday production demands.
… while Ultracomp produces the toys under the tree…
We are proud to supply our Ultracomp bearings to the conveyor systems of what has been called, "The Toy of the Century." As holiday shipping deadlines approach, our partner depends on Ultracomp bearings to run the conveyor belts throughout the manufacturing process; from plastic molding and cooling stations to packaging and shipping. Since replacing metal bearings with Ultracomp, our partner reports their conveyor systems run more efficiently and require fewer repairs, and have helped them exceed production goals.
… and TriSteel smoothes the landing to the slopes
Our partner approached us to replace their metal isolater bushings, which are found on the suspension cables that operate the lifts and gondolas in ski country. The metal bearings were running unevenly, which caused the lifts to stop and start abruptly. With replacement steel/rubber TriSteel bearings in place, our partner now notes a much smoother ride and landing at the mountain top. TriSteel bearings are reinforced for strength and durability, and have easily managed the high-load requirements of this application.
Explore how CJ bearings have lasted up to 4x longer than bronze bearings in snow grooming machines. To learn more about any of these materials, just complete a Design Worksheet for engineering assistance! Happy winter!