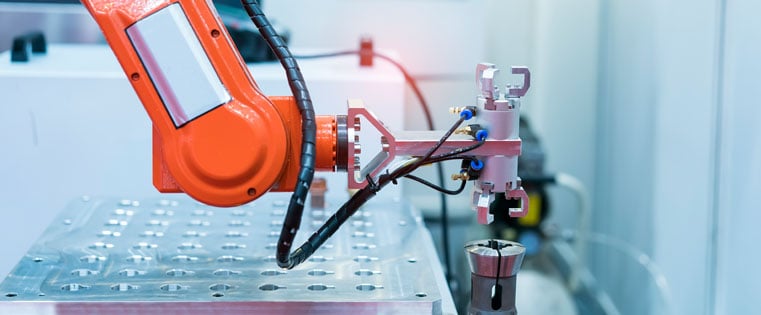 This year National Robotics Week falls on April 6-14 and there are a wide range of activities and events intended to inspire students in STEM-related fields and to educate audiences of all ages about the cultural and economic impact of robotics – today and into the future.
One thing you may not be aware of is the importance of plastic bearings to the success of many innovative robotic applications. From precision surgical robot arms to pipeline oil-leak sniffing subseas, plastic bearings are a key component driving innovation in this field.
Plastic Bearings Replace Rolling Elements and the Benefits are Clear
Plastic bearings are greaseless, durable and nearly maintenance-free. Compared to metal bearings they can be easily custom fabricated to precise specifications at a significantly lower cost than metal bearings. It's no wonder that the robotics industry has been so eager to embrace this technology.
Plastic Bearings in Robotics – Some Specific Examples
There are many uses for plastic bearings in robotic applications; here are just a few interesting examples:
Swimming Pool Cleaning Robots – Swimming pools are harsh environments and pool chemicals, algae, and UV exposure can quickly weaken metal bearings. Rulon W2 flanged bearings in the wheels of robotic pool vacuums offer clear benefits over metal. The tribological properties of Rulon W2 actually improve when wet and they do not absorb water at all, which keeps them dimensionally stable.
Picking and Packing Robots on Food Assembly Lines – TriStar's FCJ composite bearings excel in the pivot points of robotic arms. They are increasingly used to replace bronze bearings, which corrode and seize in the sub-zero and high-moisture environments encountered in food processing. FCJ bearings offer the same strength-to-weight ratio as powdered steel, but in a lighter, flexible design that can help boost production.
Surgical Spherical Robots – Surgical spherical robots require bearing materials that are rigid enough to exert a good level of force, yet also remain flexible enough to deliver precise control. In addition, any components specified must be FDA compatible to meet clean room standards. Rulon 641 meets these requirements. They are self-lubricating to eliminate the risk of oil contamination and give surgical arms excellent rotary and oscillating movements for incredibly precise cutting and placement.
Military Remote Tracked Vehicles – Remote tracked vehicles play a key role in protecting soldiers by allowing them to investigate and detonate IEDs from a safe distance. Our CJ Bearings proved to be more reliable than bronze bushings in early tracked vehicle designs. More recently, our Ultracomp bearings have been specified for sophisticated lifting arms and rotating grips due to their tight tolerances and ability to function at the lowest possible friction levels.
These are just a few of the many robotics applications for plastic bearings. Why not grab a copy of our free Robotics White Paper for a deep dive on the subject with many additional examples?
For more on National Robotics Week check out the official website or explore the ongoing conversation using the #RoboWeek hashtag on Twitter. If you have a robotics application you'd like us to take a look at, don't hesitate to reach out to our engineering team!