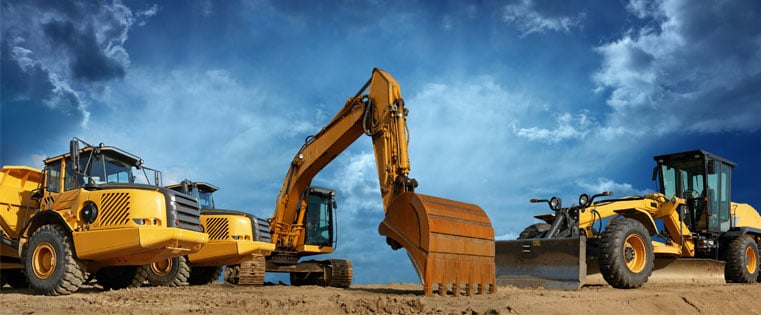 Did you get your copy of our Industrial Bearings white paper? We like to think of it as required reading for our manufacturing partners. It provides tips for overcoming the toughest bearing challenges. While the paper covers 10 industries, today we spotlight construction bearings and lubrication failures.
Time is money in the construction industry. Between the high cost of real estate, heavy equipment, manpower, and other types of overhead, any delay on the site adds up quickly.
Did you know that up to 80% of heavy equipment bearing failures can be traced back to lubrication? Without a good lubrication barrier, bearings will dry out and overheat from the friction of metal-on-metal contact. The reasons for poor lubrication include not enough grease, too much grease or even choosing lubricants with the wrong viscosity for the application. Self-lubricating plastic bearings help to eliminate the worry of bearing lubrication.
Here's how we solved a lubrication challenge for our construction bearing partner:
Challenge: Poor lubrication impacts production
Our partner manufacturers tractors, loaders and other earth movers used in the construction industry. Yet they failed to institute a regular lubrication schedule for their metal construction bearings. Without a regular lubrication routine, bearing friction soared, and the metal hydraulic rod guides, gear pumps and other systems failed. And each failure caused a stop on the conduction site.
Solution: TriSteel bearings deliver two layers to protect machinery
In a sector where idle equipment can mean millions in lost production, TriSteel self-lubricating bearings increase uptime. Their dual-layer design brings a metal structural shell with a special polymer liner to safeguard expensive industrial machinery. This combination brings steady, continuous greasing so that bearings never need lubrication. TriSteels give manufacturers better bearing life and resist the tough operating conditions and weather of an active construction site.
Choose self-lubricating TriSteel bearing to power your construction:
Two layers of self-lubricating polymer to reduce friction wear-thru
Extended wear to reduce maintenance costs
Choice of standard or metric dimensions for a custom fit
Want to explore bearing solutions for your construction application? Share your specs and we'll help keep get running!