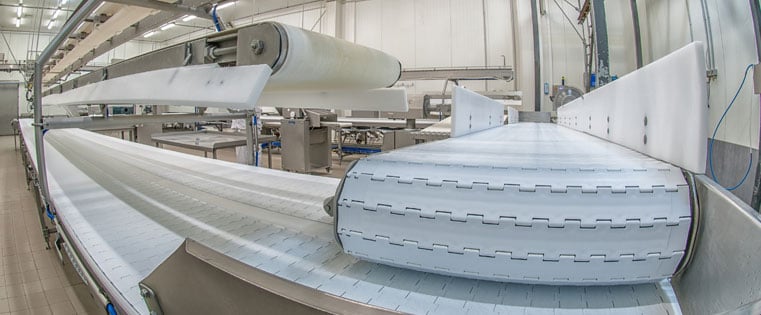 Food certification and safety are top-of-mind this week, as Americans prepare to consume roughly 46 million turkeys in the next few days. Yet have you ever wondered how poultry is processed to ensure that it's safe to eat? In honor of this Thanksgiving holiday, today we share 4 reasons we're thankful for plastic bearings in poultry processing.
Poultry and meat processing plants face a slew of industrial hazards, including biological and chemical risks. But they also have USDA regulations, production goals and shipping deadlines to uphold. With food-certified and maintenance-free plastic bearings on the processing line these hazards can be easily overcome.
1) Lubrication: No grease means more-sterile meat products
Stainless steel bearings require manual application of industrial grease to keep the production lines moving. Composite plastic bearings are self-lubricating, which saves on greasing labor and supply costs. No grease means no risk of poultry contamination and a more-sterile processing environment.
2) Efficiency: For longer-bearing service without replacement
Food certified plastic bearings such as Rulon 641, Rulon 1439 and Rulon 1337 are all proven to excel in food-processing environments, including poultry. They can tolerate wet and dry applications and chemical wash downs to deliver for years of continuous service.
3) Agency Approval: Shorter review time for installation
Quality control and sanitation are paramount to meat processing. TriStar is ISO 2001 certified for fabrication of self-lubricating bearings. And our bearings are designed to meet the rigors of USP Certification, FDA/USDA Compliance, NSF Compliance, and EU Certification controls. Ask us how these agency approvals can shorten your installation lead time.
4) Corrosion: Resistance to sanitizing chemicals and high-temperature wash downs
Unlike metal and steel bearings, plastic bearings can tolerate the extremes of high-temperature baths and quick-freeze cryogenics without corrosion. Food certified plastics will not flake and peel or otherwise contaminate a food processing environment.
Want to find out more about the benefits of food certified plastic bearings? Get your copy of our technical white papers for safe food handling.
On behalf of all of us at TriStar Plastics, Happy Thanksgiving!